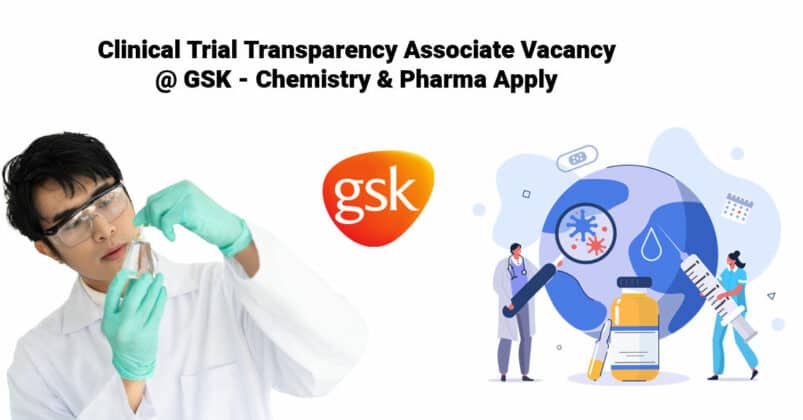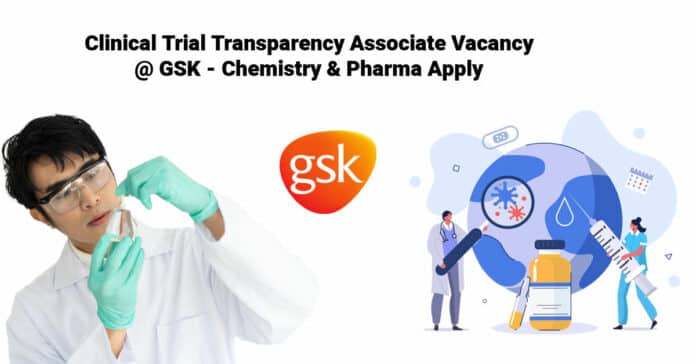 Clinical Trial Transparency Associate Job @ GSK – Chemistry & Pharma 
GSK Hiring pharm candidates for Clinical Trial Transparency Associate, job opening 2022. Pharma job opening 2022. Chemistry and Pharmacy job opening 2022. Clinical Trial Transparency Associate, job opening 2022. Candidates with bachelor's and master's degree in pharma and chemistry may apply for the job opening at GSK.
Job Title: Clinical Trial Transparency Associate
Location: Bengaluru, India
Category: Medical and Clinical
Req iD: 338146
Eligibility Criteria & Skills: 
Minimum Level of Education Required: Bachelor's Degree in chemistry, pharmacology, pharmacy, or other relevant experience
Preferred Level of Education: Master's degree
Area of Specialization: chemistry, pharmacology, Pharmacy, Clinical Research
Why is it required: Need to understand the business principles and processes of CTT and be able to acquire knowledge in an independent and fast manner
Previous Experience Required:
Minimum Level of Job-Related Experience Required:-
 At least 1-2 years of experience in a Pharma/clinical trial environment is an asset
1-2 years of experience in an environment associated with Clinical Trials Disclosure and/or of the publishing environment is an asset
 Strong communication skills
 Experience in process improvement/quality management is an asset
Experience in a Pharmaceutical company environment and specifically in a matrix organization is an asset
Why is this level of experience required – Need to understand Regulatory guidelines, clinical research and processes, should able to prioritize activities and coordinate with a number of stakeholders
Job-Related Experience sections above that are required for the job:
Knowledge
 Basic scientific, medical, biomedical and/or pharmacist education is clearly an asset.
 Prior experience in a Pharma environment is an asset
 Fluent in English, both verbal and written
 Advanced IT skills (Office, Document management tools, Internet)
Skills
Ability to plan, organize and prioritize workload, to meet deadlines in a global environment.
 Strong communication and negotiation skills
 Excellent team worker, as well as ability to work autonomously
 Able to work and collaborate within teams and networks across functional and geographical boundaries; experience in multicultural settings, and diverse environments with respect to dynamics of human interaction
 Able to work with defined priorities in a global environment
 Act as a role model in line with GSK culture and behaviors
 Effective at problem-solving and conflict resolution
 Good interpersonal relationship skills
Knowledge & Application:-
This role requires knowledge and understanding of R&D processes, and governance principles as well as an understanding of the regulation. Good understanding and interpretation of trial disclosure regulations is critical for the business and it is essential that perspective from the different therapy areas is integrated into working practices. A key aspect of the job will be to partner with, to interface, and to influence key team members (eg: CTT Leads, Transparency Specialists, CTT Statisticians, SDLs, etc)
Problem Solving & Innovation:-
A highly complex and unpredictable environment demands proactive problem-solving skills that require foresight and anticipation. There will also be more reactive issue management which requires analytical thinking to map out plans for resolution. Must be able to quickly assess correct actions to take and carefully weigh multiple options. Must be able to drive to solutions and provide guidance to the teams as to options and the best path to take.
Key Responsibilities:-
Support the operationalization of public disclosure requirements by coordinating the administrative/technical and nonscientific process for the delivery of disclosure content.
Ensure maintenance of CTT timeline and workload planning/tracking tools, their timely updates and communication with Therapeutic area teams to support on-time delivery of CTT activities
Collaborate with team members internal and external to CTT to receive and share clinical study-level information (eg: study status reports, Issue reports from public registers, study data maintenance reports from Disclosure systems) that are critical to CTT delivery.
Support CTT Leads in the Disclosure maintenance updates to Regulated public registers (Clinicaltrials.gov, EU PAS Register) via the Disclosure system
Work in close collaboration with other functional representatives to track cross-functional input for key CTT delivery
Update Disclosure systems for regular study-level updates. Ensure archival of final records in applicable systems for the posting of the documents on the required registries.
Ensure compliance to organizational key performance indicators and monitor for continuous improvement in clinical data transparency and data sharing (e.g Transparency Dashboard).
Contribute to the development of training material for the business, clinical support services and service provider(s).
Ensure proper documentation and archival support, timely implementation of audit findings and observations
Maintain awareness of changes in the disclosure, transparency and data sharing landscape, including new legal, regulatory requirements and indu
Job Purpose:-
The purpose of the role of the Associate, Clinical Trial Transparency is to support the delivery of activities related to clinical trial data disclosure in GSK R&D in the respective therapy area (Oncology, General Medicines, Specialty, Vaccines). The role is responsible to provide technical and administrative support for the timely and complete delivery of clinical documents and data related to GSK Sponsored human subject research e.g. protocol and results in summaries, full protocols, reporting and analysis plans and clinical study reports, and patient-level data, ensuring ethical and transparent disclosure of data in compliance with GSK Policy on Disclosure as well as external regulations in collaboration with a multidisciplinary team of experts across projects.
The role will support the implementation of new processes to meet regulatory requirements related to transparency of clinical studies and other data disclosure deliverables
Editors Note: Clinical Trial Subscribe to Rasayanika for the latest chemistry and Pharma job openings, follow us on Facebook and Telegram and subscribe to our youtube channel for the latest updates on chemistry and Pharma jobs and much more.