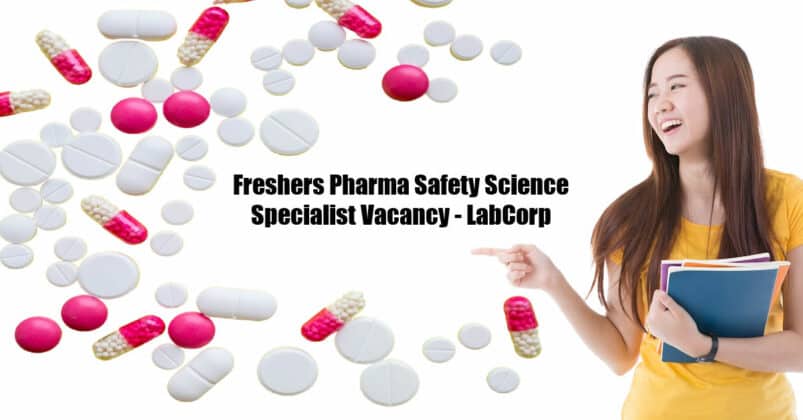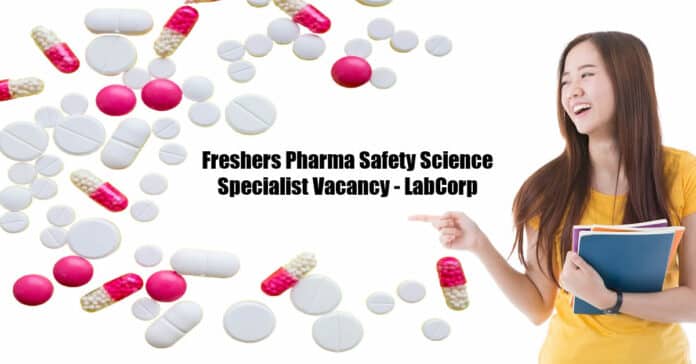 Freshers Pharma Safety Science Specialist Vacancy – LabCorp
Labcorp pharma safety specialist vacancy. Labcorp hiring candidates with a diploma degree in pharmacy. Pharma job opening 2021. D Pharma job vacancy 2021, Interested and eligible candidates may check out all the details on the same below:
Job Title: Senior Safety Science Specialist
Location Bangalore, India
Job ID: 72891
Education/Qualifications:
PharmD + 0 yrs relevant experience
Degree preferred to be in one or more of the following disciplines: Pharmacy, Nursing, Life Sciences, and Chemistry.
*Safety experience includes actual experience processing AE/SAE reports, generating narratives, queries, working within safety databases, and experience with regulatory submissions.
**Relevant experience includes experience in the pharmaceutical, biotechnology, or CRO industry, partly in related areas such as Medical Affairs, Clinical Data Entry and Clinical Data Management, Clinical Data Monitor, Regulatory Affairs, or Quality Assurance.
Experience:
The high degree of accuracy with attention to detail.
Functions as a team player.
Good Communication.
Knowledge is of medical and drug terminology desirable.
Familiarity of Good Clinical Practice (GCP) related to clinical safety documentation.
Familiarity with ICH Guidelines
Familiarity of worldwide regulatory requirements and reporting of adverse events for both marketed and investigational products.
Familiarity of worldwide regulatory requirements and reporting of adverse events for both marketed and investigational products.
Good written and verbal communication skills.
Ability to work independently with moderate supervision.
Good keyboard skills, preferably with knowledge of MS Office and Windows would be beneficial.
Job Overview:
Manage the receipt and processing of all adverse event reports reported either spontaneously from any source or from a clinical trial. This includes, but is not limited to:
entry of safety data onto adverse event database(s) and tracking systems
review of adverse events for completeness, accuracy, and appropriateness for expedited reporting write patient narratives
code adverse events accurately using MedDRA
determine expectedness/listed news against appropriate label
identifies clinically significant information missing from initial reports and ensures its collection
ensure case receives appropriate medical review
prepare follow-up correspondence consulting the medical staff accordingly.
ensure all cases that require expediting reporting to worldwide regulatory agencies are processed swiftly and appropriately within required timelines reporting of endpoints to clients, regulatory authorities, ethics committees, investigators, and Covance project personnel, if required, within study specified timelines
Maintain a strong understanding of Covance's safety database conventions or client-specific database conventions, as appropriate.
Begin participating in signal detection and trend and pattern recognition activities, as appropriate.
Begin preparing timely pharmacovigilance reports for products and safety issues, including Individual Case Summary Reports (ICSRs) of Serious Adverse Events
Assist in the preparation of listings for Annual IND reports Periodic Reports (PRs) and Periodic Safety Update Reports (PSURs).
Work with Data Management or client on reconciliation of safety databases.
Begin participating in the generation of monthly status and other project-specific reports ensuring the quality and accuracy of metrics and data provided.
Support/train less experienced safety staff in all aspects of case-handling, adverse event reporting.
Maintains a comprehensive understanding of Covance Safety's Standard Operating Procedures (SOPs), Work Instructions (WI), guidance documents, and directives associated with safety management, reporting, and pharmacovigilance.
Possess knowledge of other procedural documents, e.g., SOPs, etc. that impact Safety.
Ensure compliant safety reporting in accordance with the US and international reporting regulations, SOPs, and safety processing guidelines set forth by the departmental management team and the client.
Build and maintain good PV&DSS relationships across functional units.
Demonstrate role-specific Competencies on a consistent basis.
Demonstrate company values on a consistent basis.
Begin to develop a good knowledge of contract assumptions; identifying out-of-scope work.
Read and understand Safety Management Plans (SMPs), Reconciliation Plans, and other safety-specific plans ensuring optimal efficiency.
Begin participating in Covance project teams and client meetings as appropriate.
Assist in the review of cumulative safety data for submission to Drug Safety Monitoring Boards (DSMBs), regulatory authorities or clients.
Assist with the set-up of, and the provision of data to, Safety Committees/DSMBs.
Assist in the coordination of endpoint committees, as required.
Any other duties as assigned by management.
Editors Note: Freshers Pharma Safety Science Subscribe to Rasayanika for the latest chemistry and Pharma job openings, follow us on Facebook and Telegram and subscribe to our youtube channel for the latest updates on chemistry and Pharma jobs and much more.