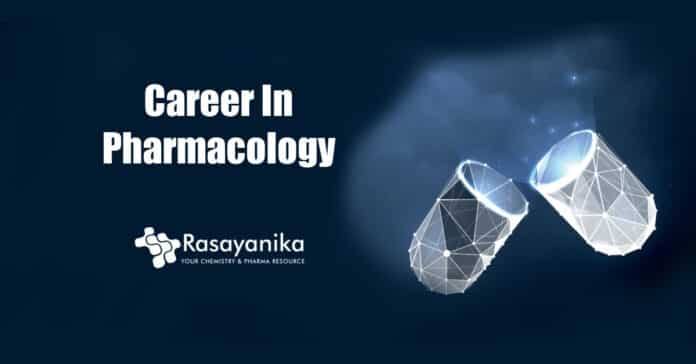 Career in Pharmacology
If you are interested in drugs, drug therapies, and various other facets of pharmaceuticals but don't want to work as a pharmacist in health centers or drugstores, then you can opt for pharmacology as your career.
Pharmacology, one of the main study domains under Biomedical Science and the
pharmaceutical industry, is studying how medicines affect a living organism and how the body responds to the medicine. The domain comprises the sources, chemical features, biological impacts, and therapeutic uses of medicines. These impacts can be therapeutic or lethal, based on various determinants.
Pharmacology is not actually similar to a pharmacy, and a pharmacologist is not precisely the same as a pharmacist. A pharmacologist usually works in a laboratory rather than a drugstore like a pharmacist. Though, there is a small overlap between both of these study domains. A pharmacist could be regarded as a type of pharmacologist.
There are 2 major fields of pharmacology – pharmacodynamics, and pharmacokinetics. Pharmacodynamics is the study of the impacts of medicines on biological systems, and Pharmacokinetics is the study of the impacts of biological systems on medicines.
The domain of pharmacology explores drugs and medicines, which are later dispersed by pharmacists. Additionally, pharmacologists determine the medicine doses and how they can be safely administered.
As a pharmacologist, your job is most likely to be laboratory-based; however, your work may depend on the type of your job role. They are normally concerned with the manufacturing of pharma products, the development of the methods or procedures of production, clinical testing of the impacts of such medicine on humans and animals, quality control, and gaining the required approvals from the drug control officials.

Eligibility criteria for pharmacologists
Pursue 10+2, with Biology and Chemistry as majors.
Pursue a bachelor's degree in pharmacology.
Then you can pursue a Master's degree in pharmacology, where you can choose a specialization of your choice.
Most pharmacologists pursue Pharm.D., from a pharmacy school (4 years of undergraduate, pre-professional college coursework, including 4 years of professional study.)
Another educational track for pharmacologists is a Ph.D. in pharmacology. Several professionals in the domain hold both a Pharm.D. and a Ph.D.
Pharmacologists must have an advanced degree, like a Ph.D., Pharm.D. or M.D., to find a job. Students interested in practicing clinical pharmacology should have an M.D. or Ph.D., while those seeking a career in applied pharmacology should hold a Ph.D. or Pharm.D.
The career prospects are considerably defined by the specialization you choose in your Masters.
Key skills required to be a Pharmacologist
Expertise to design, retrieve, manage and decipher complex data
Knowledge of health and safety procedures
A keen interest in life sciences and medicine
Attention to detail
Analytic skills
Communication skills
Good organizational skills
Interest in laboratory work
IT skills
Knowledge of safety
Leadership
Oral and written communication skills
Problem-solving
Proficient in biology and chemistry
Research mentality
Strong logical thinking
Strong academic foundations
Teamwork
Time management skills
Job sectors in Pharmacology
Academia
Pharma Industry
Biotechnology Industry
Healthcare
Government
Career Prospects in Pharmacology
Academic researcher
Analytical chemist
Biomedical scientist
Community pharmacist
Clinical research associates
Clinical trial monitors
Clinical study coordinators
Consultants
Drug safety monitors
Drug therapist
Drug Regulatory Officer
Environmental monitors
Food and Drug Inspector
Hospital Drug Coordinator
Healthcare Scientist
Lecturers
Laboratory technicians
Medicinal chemist
Medical sales representatives
Medical science liaisons
Medical affairs associates
Medical Advisor
Medical/scientific writers and editors
Pharmacologist
Patent attorney
Pharma Researcher
Pharmacovigilance/drug safety associates
Pharmaceutical marketing & information professionals
Researchers/scientists
Research associates
Regulatory affairs associates/officer
Regulatory compliance officers
Risk assessment, drug/toxicant information specialist
Scientist
Toxicologist
Typical employers of Pharmacologists
Department of Health and Social Care
Intellectual Property Office (IPO)
National Health Service (NHS)
Colleges and universities
Abbott India Limited
Aurobindo Pharma Limited
Biocon Limited
Dr. Reddy's Laboratories
Divis Laboratories Limited
Glenmark Pharma Limited
Lupin Limited
Sun Pharmaceutical Industries Limited
Torrent Pharmaceuticals Limited
Top colleges for pharmacology
Salary for Pharmacologist
Average Entry-Level Pharmacologist Salary in India – ₹8,29,763/ year
Average Middle-Level Pharmacologist Salary in India – ₹11,77,777/ year
Average Senior-Level Pharmacologist Salary in India – ₹14,87,977/ year
The average salary for a Pharmacologist in the United States $ 135,249/ year.
Freshers are hired as trainees with an average of around ₹10,000; however, it may vary depending on the organization.
Future Scope
Pharmacology is among the quickly growing sectors in the health care sector and crucial elements for maintaining the health care sector. A postgraduation degree or Ph.D. increases employment chances, career scope, and prospects are extensive and fruitful. The development and advancement of science and technology have enhanced the knowledge of diseases, their causes, and possible remedies that have made pharmacology a discipline full of potential and many challenges. This sector will certainly be ever-growing.
---
For further reading: