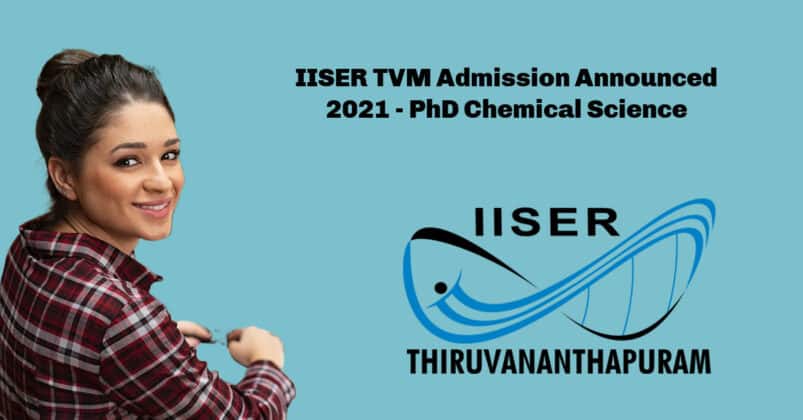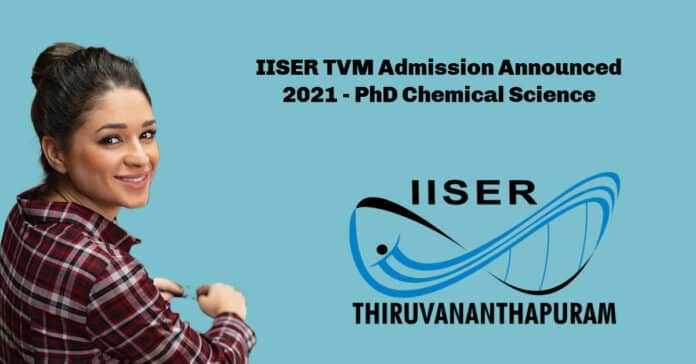 IISER TVM Admission Announced 2021 – PhD Chemical Science
Applications are invited from highly motivated students for admission to the Ph. D. program of Indian Institute of Science Education and Research Thiruvananthapuram (IISER TVM) in the Schools of Biological, Chemical, Mathematical and Physical Sciences for the session starting from August 2021, i.e., Varsha 2021 semester. Candidates are required to apply through the online portal only. The online application portal will be open till 26th June 2021 at http://appserv.iisertvm.ac.in/phd/
Since many national-level eligibility tests have been postponed, IISER TVM plans to conduct one more round of admissions of the Ph. D. program after the results of these tests have been announced.
Department: Chemical Science
General Eligibility Criteria
The candidate must have qualified at least one of the following examinations: CSIR-UGC, UGC-NET JRF or GATE, or any other national-level examinations as mentioned below, with validity as of 01 August 2021.
BS-MS students from any of the IISERs with CGPA 8 or above on a 10-point scale are exempted from national level eligibility test-related criteria.
Research Area:
Main Group Chemistry
Synthetic Methods for Organic Synthesis, Asymmetric Catalysis and C–H Activation/Functionalization
Sustainable Organic Synthesis: Transition Metal-based Organometallic Catalysis, Photocatalysis, Metal-Free Coupling Reactions
Supramolecular Chemistry, Organic Synthesis, Medicinal Chemistry
Electrocatalysis, Kinetic and Mechanistic Study of the Electrochemical Reduction of Oxygen in PEM Fuel Cells
2D materials, MXenes, Energy Storage, Multivalent Batteries and Hybrid Metal-Ion Capacitors
Asymmetric Total Synthesis, Asymmetric Catalysis, Development of New Methodologies and Medicinal Chemistry, Asymmetric Catalysis and Cross-Coupling Reactions
DNA Nanotechnology, Supramolecular Chemistry, Bionanomaterials, Photochemistry, Organic Synthesis
Theoretical Chemistry
Supramolecular Chemistry: Host-guest Chemistry, Molecular Switches, and Machines,
Synthesis and Application of Rotaxanes and Catenanes; Supramolecular Catalysis
Bioinspired Coordination Chemistry, Metal-free Small Molecule Activation, Reaction Mechanism Investigation
2D Hybrid Materials, Metal Nanocluster, Cluster-as-sembled Materials, Metal-Organic Framework, Photophysics, and Energy Applications
Novel Synthetic Methodologies for the C-C and C-X (N, O, B) Bond Formation Reactions: Photoredox Catalysis, Metal Catalysis
Selection Procedure: 
Marks-based shortlisting and two rounds of online interviews.
Important Dates
The online application portal opened on 25 May 2021
Last date for receipt of online applications 26 June 2021
Tentative Interview Dates
Chemical Sciences 12-15 July 2021
Mode of examination Online Interview
General Information and Application Procedure
Applicants should complete the online application form at the url: http://appserv.iisertvm.ac.in/phd
Only applications complete in all respects would be considered. Do not forget to click the "Submit" button after completing your application.
Applicants will also be prompted to upload all the supporting documents online.
Applicants should provide the Name/Affiliation/Contact number and Email addresses of two referees in the application form.
Applicants belonging to GE/OBC and SC/ST/PH categories are required to make a payment of Rs. 500/- and Rs. 250/-, respectively, as a processing fee online at: https://www.onlinesbi.sbi/sbicollect/icollecthome.htm
On submission of the online application form, the applicants will receive an acknowledgment email with a unique application number.
Applicants are NOT required to post a hard copy of the application to IISER TVM.
In case of any application-related queries, please contact the Ph. D. Coordinator by email at:

[email protected]

. Any other mode of communication will not be entertained.
Mere fulfillment of the eligibility criteria does not entitle a candidate to be called for the interview Relaxation for reserved categories to the eligibility criteria will be applicable as per Government of India rules.
Editors Note: IISER TVM Admission Announced Subscribe to Rasayanika for the latest chemistry and Pharma job openings, follow us on Facebook and Telegram and subscribe to our youtube channel for the latest updates on chemistry and Pharma jobs and much more.