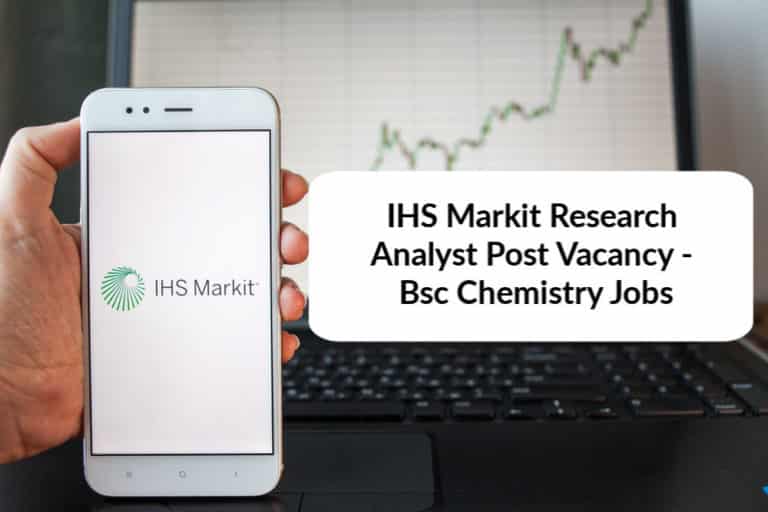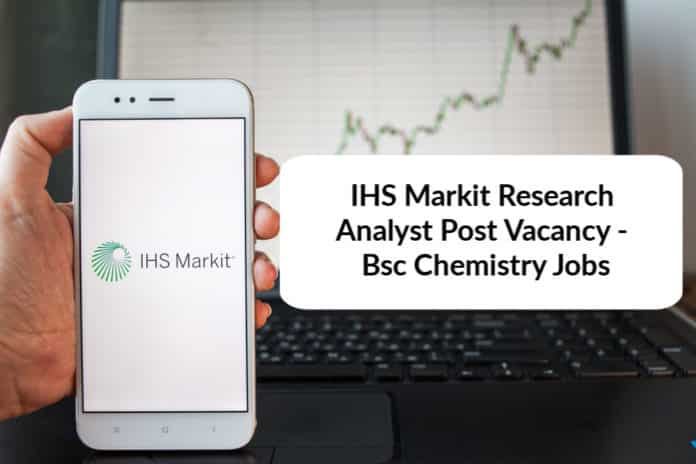 IHS Markit Analyst Post Vacancy – Bsc Chemistry Jobs
IHS Markit is committed to Equal Employment Opportunity and providing reasonable accommodations to applicants with disabilities. If you are interested in applying for employment with IHS Markit. Please apply online. Interested candidates may check out all the details on Rasayanika.com
Job Title: Research Analyst I in Gurgaon – Ambience
Eligibility:
Bachelor's degree. Chemical Engineering or Chemistry degree preferred. Other numerate or business degrees will be considered.
Strong Microsoft Office skills — Word & Excel. Execellent Power Point ability will have an advantage.
Ability to multi-task.
Ability to meet deadlines.
Ability to work fast and efficiently to get requested data to clients in a timely manner.
Preferably with 1-2 years Chemical industry experience. Fresh graduate with good credential is also encourage to apply.
Candidate must be fluent in English, both written and spoken. Good communication skills, both written and verbal.
A successful candidate must have strong organizational skills, ability to meet deadlines, very strong analytical skills and top-notch communication skills.
They will also be able to work in a team environment, but also individually with limited support and guidance.
GENERAL JOB DUTIES
In this role initial responsibilities will include:
Fulfil data requests from clients. Create/modify Microsoft Excel graphs and tables for weekly/monthly market reports and annual world analyses. Proof and modify senior level analysts' text for market reports and world analysis. Create presentation materials in Microsoft Power Point for meetings and conferences. Maintaining and updating of capacity and trade databases and systems. Develop/maintain techno-economic models for chemical price and margin forecasting Interface with other regional offices Support of marketing efforts at both IHS Chemical sponsored events and outside events, including follow up on prospects and marketing of organization services Backup support for senior members of the team, covering report coverage
The suitable candidate will quickly be able to develop into a more industry-focused role and will also be required to:
Maintain an industry contact base and use to gain market insight and understanding Gain strong understanding in certain areas within the Asia polymer and Chlor-alkali/vinyls industries with an eye to becoming expert in one of these fields. Regular written and analytical contributions to weekly, monthly and annual publications.
SUMMARY
Key support role for the IHS Markit Chemical Insight, Inorganics team in Asia and London. The candidate will give analytical support to all aspects of the groups' activities. In this role the candidate will be working closely with the senior members of the team in all aspects of the business with key responsibility
for ensuring analytical models are kept up-to-date, carrying out ad-hoc analysis and development as well as ensuring tools, charts and tables supporting market report publications are current and presentable. The right candidate will gain the opportunity to have direct exposure to the customer base, leading to individual responsibility for distinct product market coverage within the Asia and EMEA chlor­-alkali/vinyls sectors.
Editor's Note: IHS Markit Analyst Post Research Job Opening, Chemical Science job opening, chemical, chemical Science job opening at IHS Markit, IHS Markit jobs, job opening at IHS Markit, Subscribe to Rasayanika for latest chemistry and Pharma jobs. Follow us on Facebook.