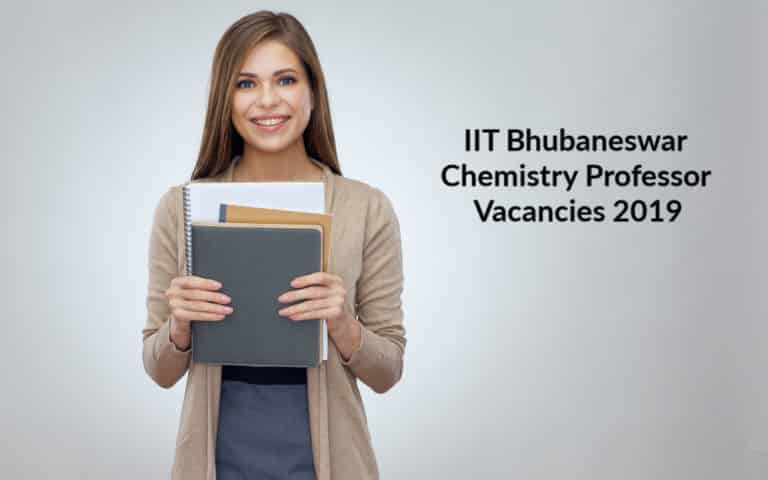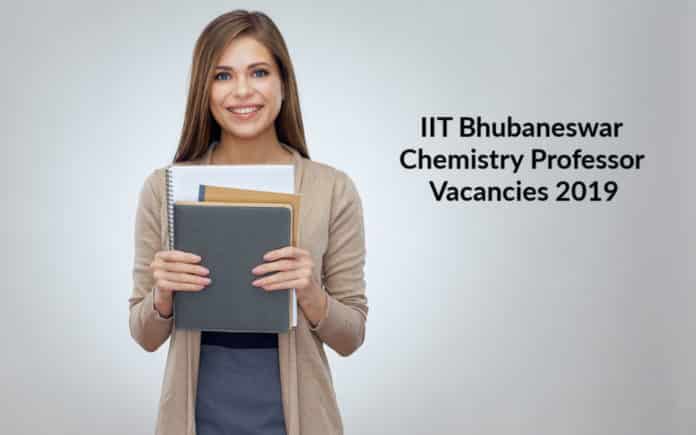 IIT Bhubaneswar Chemistry Professor Vacancies 2019
IIT Bhubaneswar Chemistry Professor IIT Bhubaneswar invites applications for faculty positions from Indian nationals including Persons of Indian Origin (PIO) and Overseas Citizen of India (OCI) who are exceptionally bright and motivated, with an established record of independent, high quality research and commitment to teaching.
For further details, and online submission of application against this rolling advertisement, please visit http://www.iitbbs.ac.in/faculty-advt-02/2019.php
Those who had applied against the advertisement no. Rectt/01/ 2019 are requested to update their biodata available in the new portal.
MINIMUM QUALIFICATION
PhD with first class or equivalent in the preceding degree in the appropriate branch, with a consistently very good academic record and evidence of ability to pursue independent high-quality research. University toppers at Bachelors and Masters Level are encouraged to apply.
Chemistry:
For Assistant Professor: Experimental Physical Chemistry (Electrochemistry/ Spectroscopy), Physical Organic Chemistry, Main-Group Inorganic Chemistry
For Professor & Associate Professor: All fields of physical, organic, inorganic and analytical chemistry
Experience:
Associate Professor:
At least 6 years teaching/research/industrial/professional experience of which at least 3 years should be at the level of Assistant Professor in IITs, IISc Bangalore, IIMs and IISERs or at an equivalent level in any such Indian or foreign institutions of comparable standards OR Senior Scientific Officer/Senior Design Engineer in a research organization or industrial enterprise. The candidate should have demonstrated capability and adequate experience of independent research in terms of guidance of Masters and Ph.D. students, sponsored research, publications in reputed journals and referred
conferences, patents, laboratory/course development and/or other recognized relevant professional activities.
Assistant Professor Grade-I:
Eligible candidates with at least 3 years teaching/research/industrial/professional experience preferably in IITs, IISc Bangalore, IIMs and IISERs or at an equivalent level in any such Indian or foreign institutions of comparable standards excluding the experience gained while pursuing Ph.D, may be considered for the position of Assistant
Professor Grade-I*. Candidates should be highly motivated towards teaching and research and should have demonstrated research capabilities in terms of publications in reputed journals and referred conferences.
Interested candidates may apply with their:
Curriculum vitae, list of publications (with urls of important publications for online access)
Proposed research and teaching plan.
School in which the candidate proposes to work.
Names and Addresses (with email addresses and contact numbers) of at least three referees.
Salary: Associate Professor 13A2 Rs. 184,470
Assistant Professor: Rs.173,724
ALLOWANCES
For Regular Faculty positions:
1. All allowances as admissible to a Central Government employee stationed at Bhubaneswar are payable. The benefits such as HRA, LTC, medical re-imbursement, education allowance for children, and contribution towards National Pension System (NPS) etc. shall be as per the Institute norms.
2. Suitable accommodation will be provided on availability in a clean and green environment of the Institute
Campus.
3. A Cumulative Professional Development Allowance (CPDA) of Rs. 3 lakhs for every block period of 3 years on reimbursement basis will be admissible to meet the expenses for: participating in international/national conferences; membership fees of professional bodies; book grant; telephone charges; contingency etc. as per Institute guidelines.
4. Seed research grant up to Rs. 20 lakhs to initiate research project in a chosen area.
5. Reimbursement of relocation expenses at the time of joining as per Institute norms where applicable
NOTES
1. Applicants desiring to apply for more than one School should submit separate application for each School. Candidates will not require registering multiple times at the portal to apply for multiple positions.
2. For the post of Assistant Professor, the candidates should be preferably below 35 years of Age.
3. Mere eligibility will not vest any right on any candidate for being called for interview.
4. Minimum requirement of experience may be relaxed in respect of outstanding candidates.
5. The Institute reserves the right to call only the requisite number of candidates for interview after short listing in terms of the Schools' requirement, candidates' qualification, suitability, experience and the status of decisions about the candidate in earlier selections.
6. The Institute reserves the right to fill or not fill any or all of the advertised posts as it may deem fit.
7. Depending on requirement, interview may be conducted in select specializations only. However, exceptionally meritorious candidates in any area of specialization pertaining to the said specialization will also be considered.
8. The candidate is responsible for the correctness of the information provided in the application. If it is found at a later date that any information given in the application is incorrect / false the candidature / appointment is liable to be cancelled / terminated.
9. The decision of the Institute in all matters of selection is final.
10. NO INTERIM ENQUIRIES SHALL BE ENTERTAINED.
11. Canvassing in any manner would entail disqualification of the candidature.
How To Apply:
Candidates possessing the requisite qualifications and experiences are requested to apply online at http://www.iitbbs.ac.in/faculty-advt-02/2019.php following the instructions therein. The online portal will allow the candidate to print the filled-in application after successful electronic submission. The portal will also allow for editing after submission.
View Main Notification

Editor's Note: IIT Bhubaneswar Chemistry Professor Chemistry teachers post vacancy, Chemical science teacher post, teacher post vacancy 2019. Subscribe to Rasayanika for latest chemistry and Pharma job openings. Follow us on Facebook for the latest updates.