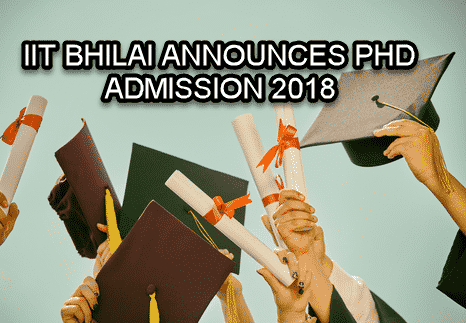 Phd Admission Notification @ IIT, Bhilai, Chemistry Candidates Can apply
Phd Admission Notification @ IIT, Bhilai, Chemistry Candidates Can apply. Phd admission @ IIT, Bhilai. Chemistry jobs. Check out all the details on the same below:
IIT Bhilai is an institute of national importance declared as such under the Institutes of Technology (Amendment) Act 2016 to provide for education and research in various branches of engineering, technology, science, and arts. IIT Bhilai invites applications for admission to Sponsored PhD programs in various departments for the session starting from December 2018.
Eligibility: Master's degree in Chemistry with first class, 60% marks or equivalent (55% marks for SC/ST/PwD)/ Chemistry CSIR-UGC NET (JRF/LS) in Chemical Sciences or GATE in CY.
Sponsored Ph.D. Program:
Applicant meeting the eligibility criteria may apply for admission to the PhD program under sponsored category if he/she is either awardee of research fellowship from some recognized funding agency (CSIR/ UGC/ NBHM/ DBT/ ICAR/ ICMR/ ICPR etc. or DST INSPIRE Fellowship) or is sponsored by his/her employer or is ready to self-sponsor himself/herself for the duration of PhD tenure. A certificate/declaration of sponsorship from the sponsoring body must be submitted by the applicant at the time of applying for admission.
Sponsored candidate needs to apply as one of the following:
i) Full-time: A sponsored applicant may apply for admission to Ph.D. program as a sponsored full-time student. Such a student needs to be present on the campus for the duration of Ph.D. as per the rules of IIT Bhilai.
ii) Part-time: Professionally employed personnel such as working engineers, scientists, and teachers who can, while employed, attend regular classes as per schedule of IIT Bhilai may apply for admission to PhD program as a sponsored part-time student. The applicant must be an employee of a recognized organization and be engaged in professional work in the area to which admission is sought. The student must be available in person for discussion/meeting with the supervisor on a regular basis. The applicant shall give an undertaking endorsed by the employer that the applicant will be relieved to attend all classes.
iii) External: An applicant working in industry / academic establishment/research laboratories having R&D facilities may apply for admission to Ph.D. program as an external applicant. Such a student is expected to carry out all/major part of the research work in the organization employing the student. The employer must explicitly undertake to relieve the applicant for staying on the campus to complete the required coursework. A certificate to that effect from the sponsoring organization must be provided by the applicant at the time of applying for admission. The student will be under joint supervision of a supervisor from IIT Bhilai and one from his/her parent organization. The applicant shall provide the CV of the prospective supervisor who would supervise the applicant's work at his/her organization. Such applicants may apply as a full-time or part-time scholar.
A) External Full-time: An external full-time student needs to be involved in full-time research at the organization employing the student.
B) External Part-time: An external part-time student may be involved in his/her regular job assignments along with the research for Ph.D.
Application Fee:
SC/ST/PwD category candidates ₹100/-
All other candidates ₹200/-
Guidelines for PhD applications
1. Applicants must read the instructions carefully before filling up the application form.
2. Applicants must fill out the online application form available at www.iitbhilai.ac.in/phd_admission. There is no need to send hard copy of the application forms.
3. Separate application form is to be filled if applicants are applying in more than one discipline.
4. Reservations are applicable for applicants in other Backward Class-Non-Creamy layer (OBC-NCL)/ Scheduled Caste (SC)/ Scheduled Tribe (ST)/ Person with benchmark disability (PwD) category, as per Government of India rules. The caste certificate must be attached during online application and the same will be verified at the time of admission.
5. Applicants should complete the application form in all respects. Incomplete application will not be considered.
6. Applicants MUST keep the following documents (softcopy) ready to upload during their application process:
• Photograph.
• Academic certificates (10th/12th, UG & PG certificates, etc. whichever is applicable)
• Mark-sheet of all semesters/Consolidated mark-sheet of the qualifying degree. Result awaited candidates have to upload their latest/previous semester mark-sheet.
• Caste certificate (OBC-NCL/SC/ST), if applicable.
• Experience certificate and any other relevant documents., whichever applicable.
7. Applicants must also provide the details of at least two well-acquainted people who can provide reference letters in support of candidature of the applicant. At least one of them must be an academician and must have taught the applicant.
8. Applicants having the degree from foreign universities should upload equivalence certificate from Association of Indian Universities (AIU), New Delhi for qualifying Exam and proof of having first class or 60% (55% for SC/ST) marks or equivalent in qualifying examination.
9. Applicants are advised to check the Institute website for results / important announcements. Applicants are also advised to check emails sent to the email address provided in their applications for all important communications and announcements. All communications related to admission will be communicated only through e-mail.
10. Applicants called for written test/interview should bring with them
• Photo ID Card,
• A printed copy of the application submitted online,
• Thesis / dissertation / report / publications,
• All Original certificates and mark-sheets.
11. Applicants who are admitted as students must submit self-attested copies of their qualifying degree certificate / final transcripts (if not available at the time of admission/application) on or before February 4, 2019, failing which the admission shall stand cancelled.
Application Process
STEP-I: Apply Online
Candidate has to apply online from IIT Bhilai website. After filling the details, an Application Number will be generated. Candidate should note down the Application Number. Please note that you have to upload your testimonials wherever it is required to validate your information along with your digital photograph and signature. After final submission of your online application, Application number along with the pdf of your online application will be generated. The application number may be retained for making payment and for any future communication.
STEP-II: Make Payment 
On successfully submitting the application, make payment by clicking on "Make Payment" button using the Application Number available on the generated pdf. Candidate has to select the appropriate payment category for making payment. After making payment, candidate has to retain a copy of SBI Bank Collect receipt for any future reference.
Last Date To Apply: November 9, 2018, 05:00 pm