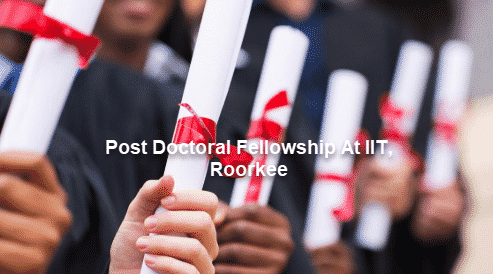 IIT,Roorkee Invites Applications For Postdoctoral Fellowship
IIT,Roorkee Invites Applications For Postdoctoral Fellowship. Career @ IIT, Roorkee. Ph.D. chemistry jobs. Chemistry jobs. Check out all the details on the same below:
Project Title: 'Development of biomarker Amyloid β in order to detect Alzheimer's Disease at an early stage'.
The prospective candidate is expected to have a strong background in organic or inorganic synthesis with sufficient knowledge in fluorescence properties and measurements. Preference will be given to the candidates having hands-on experience in organic synthesis and characterization of products by HPLC, LC-MS and NMR measurements. Candidate should be passionate about working on cutting-edge research leading to high impact products and services. Other research activities may include participating in research discussion with overseas universities and research centers. Apart from research, the candidate may be entrusted with other academic responsibilities as deemed fit by the department.
Eligibility: The prospective candidate should have Ph.D. in Organic or Inorganic Chemistry from a
premium institute with a consistently good academic record. He/she should have a minimum of two
SCI publications and a strong knowledge of organic or inorganic synthesis in the area preferably with strong knowledge in fluorescence measurements. Candidates who have recently submitted their doctoral thesis are also eligible to apply subject to the condition that they will furnish the proof of award of Ph.D. at the time of interview.
Duration and Fellowship amount:
The duration of the fellowship will be of two years extendable for one more year. The candidate is expected to join the Department as soon as offer letter has been released. The fellow will receive a consolidated fellowship as mentioned in addition to the contingency
grant of Rs. 20,000/- per annum.
First year: Rs. 50,000/- per month.
Second year: Rs. 55,000/- per month.
How to Apply:
Candidates can apply with cover letter, curriculum vitae, list of publications (with the most
significant publications highlighted), research statement describing past research and plans for
future research by both regular and e-mail, to:
Professor and Head, Department of Chemistry, Indian Institute of Technology Roorkee
Roorkee –247667, India. Email: [email protected]; Phone (office): +91-1332-284381
Last Date To Apply: November 9, 2018
View Main Notification