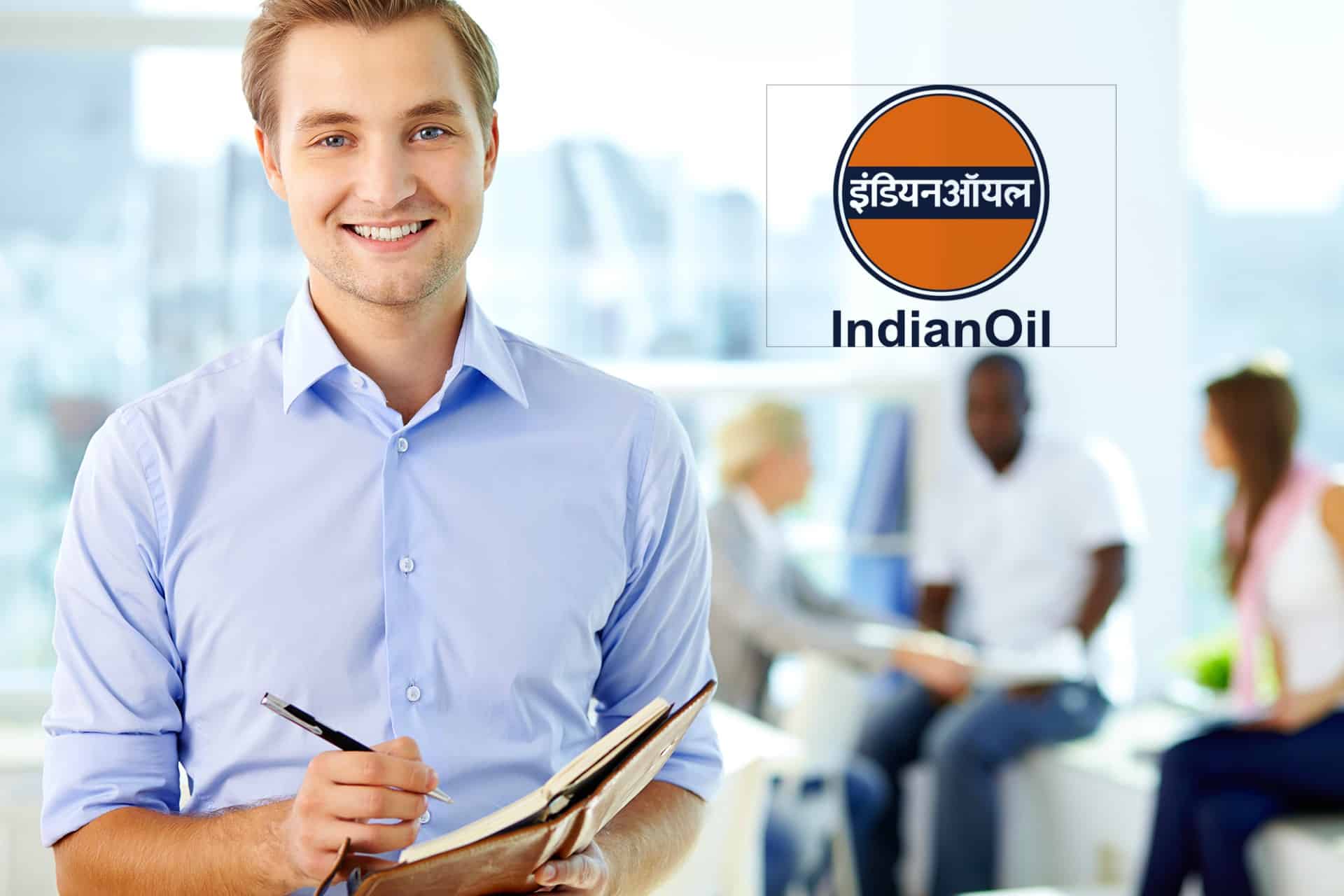 Join India's No.1 Company, Be a Part of Nation Building
Recruitment of Engineers/ Officers/ Assistant Officer (Quality Control)
through GATE-2018
As India's flagship oil & gas major, IndianOil has been fulfilling the energy needs of the nation for nearly six decades . With a sales turnover of Rs 4,38,710 crore (UDD 65.39 billion) and profit of Rs 19,106 Crore (USD 2848 million) for the year 2016-17, IndianOil is India's largest commercial enterprise and the leading Indian company in Fortune's Global 500 listing. The Corporation operates Asia's largest refineries, pipelines and marketing infrastructure set-ups and owns some of the most trusted Superbrands like Indane and SERVO. Empowered with Maharatna status, IndianOil's vision is to be 'The Energy of India' and 'a globally admired company'.
To fuel its future growth, IndianOil us recruiting energetic and dedicated
a) Graduate Engineers for recruitment as Engineers/Officers. In addition, few Graduate Engineers will be engagement as Graduate Apprentice Engineers (GAEs) in line with Apprenticeship Act, 1961(and subsequent amendments thereafter) from Civil, Chemical, Electrical, Mechanical and Instrumentation disciplines. GAEs are offered lump sum monthly stipend for a period of one year and on the basis of their satisfactory performance, they may be absorbed in the Corporation.
b) Post Graduates in Chemistry (with minimum 2 years of relevant experience) as Assistant Officer (Quality Control) in Marketing Division of Indian Oil Corporation Ltd.
Recruitment in the above mentioned positions will be through Graduate Aptitude Test in Engineering (GATE)-2018.
The details of eligibility criteria regarding disciplines, prescribed educational qualification, age and other eligibility criteria and application procedure is mentioned below:
Eligible discipline for Selection as Assistant Officer (Quality Control) in Marketing Division
Candidates having M.Sc in Chemistry (full-time regular course only) will be considered for
recruitment as Assistant Officer (Quality Control) in MARKETING DIVISION. M.Sc in
Chemistry will mean M.Sc or equivalent degree either in Inorganic/ Organic/ Analytical/
Physical/Applied Chemistry.
Candidates from other branches of Chemistry viz Bio-Chemistry/ Geo-Chemistry etc. will
not be considered as eligible.
(Note: Candidates not opting for the Chemistry (GATE paper code: CY) will not be
considered for selection as Assistant Officer (Quality Control) by IndianOil.
Experience requirement for selection as Assistant Officer (Quality Control) in Marketing Division
Candidates for the post of Assistant Officer (Quality Control) in Marketing Division Officers
must have minimum 2 years of relevant experience (As on 30th June, 2018) in one or more of
the following areas:
1.1.1. Experience at a Chemical Testing laboratory on testing/ analysis/ R&D/ quality control
etc.
1.1.2. Testing of petroleum products (fuel, lube, grease, used lubricants) petrochemicals etc.
In addition, the candidates must be:
1.1.3. conversant with BIS/ASTM/ISO/ IP specifications and test procedures
1.1.4. must have working knowledge of handling automated analytical equipments.
The duration of experience will be reckoned as on 30th June,2018. The experience after completion of M.Sc (announcement of final result) will only be considered as relevant experience. Any experience gathered after B.Sc or as a short-term trainee (summer/ winter project etc) will not be considered as relevant experience.
Teaching experience will not be considered as relevant experience.
Nature of Job – Assistant Officer (Quality Control) (Indicative)
Candidates selected as Assistant Officer (Quality Control) will be posted in a laboratory testing petroleum products in Marketing Division. The candidate should be conversant with/ carry out the following:
3.1.1. BIS/IP/ISO/ASTM test methods and specifications for Physico-Chemical Testing of
Petroleum and Petrochemical Products.
3.1.2. Testing of Aviation/ Non-Aviation Petroleum Fuels/ Bio-fuels/ LPG/ lubricants
(finished/used) /greases & additives samples as per specification requirements and Lubes
packaging material testing etc as per national and international test methods and
specifications and release of test reports.
3.1.3. Furnishing quality certificates of finished products & raw materials.
3.1.4. Ensuring function of manual and automatic laboratory equipments, maintenance of
records of preventive and breakdown maintenance and processing of their AMCs.
3.1.5. Working on and maintenance of computer aided instruments like UV/
GC/GLC/HPLC/Spectrophotomer/AAS/FTIR/ICP/Micro-coulometer/ED XRF/ WD
XRF /DRES/ auto-viscometers/ titrimeters/ HTHS etc.
3.1.6. Verification/ calibration of Hydrometer/ Thermometers/ Pressure-gauges, Viscometer etc
and preparation of certificates
3.1.7. Calibration of laboratory equipments (internal/external) and maintaining calibration
schedule.
3.1.8. Preparing laboratory reagents for chemical testing as per test methods.
3.1.9. Keeping of inventory stock-cards of laboratory equipments, chemical and glassware in
the lab and their replenishment from time to time based on minimum inventory level
(MIL).
3.1.10. Operation of mobile laboratories for sample testing at the industry retail outlets. This will
involve travelling to upcountry locations for inspection/testing.
3.1.11. Maintenance of excellent level of safety, maintenance & housekeeping at all times in
static and mobile laboratories.
3.1.12. Preparation of MIS data on static/ mobile lab activities and furnishing the same to the
controlling officers.
3.1.13. Interface with Petroleum Refinery/Petrochemicals/Bulk Fuel Terminals/Aviation Fuel
terminals/ Lube & grease plant operations including synthetic lube plants operations /
quality assurance aspects related to fuels/lubes, storage/ transportation by pipe lines
/tankers/tank wagons/ road tankers, storage/ dispensing at retail outlets, water and
waste water quality management, Technical services etc for quality assurance.
3.1.14. Conceptualizing and implementing appropriate Quality Management Systems/Defence
self certification in the lab ie. NABL/ISO /self certification etc.
3.1.15. Trouble shooting/ rendering technical assistance to process/ production / various
functions.
3.1.16. Following guidelines from DGCA, DGAQA, DG Shipping and MOP & NG issued from
time to time.
3.1.17. Developing statistical techniques for representation of testing data from laboratories.
Educational Qualification:
M.Sc in Chemistry
Candidates should have passed qualifying degree examinations and awarded Master's degree in Chemistry (M.Sc or equivalent) (full time regular courses only) in the above mentioned disciplines from recognized Indian Universities / Institutes.
Candidates, belonging to General and OBC (non- creamy layer) categories, should have secured minimum 60% marks in qualifying degree examinations.
Qualifying marks is relaxed to 55% for Scheduled Caste (SC)/Scheduled Tribe(ST)/People with Disability (PWD) candidates.
Remuneration:
Assistant Officer (Quality Control) in Marketing Division
Candidates selected as Assistant Officer (Quality Control) will receive a starting basic pay of Rs. 20,600/-per month (pre-revised). In addition, the selected candidates will receive Dearness
Allowance (DA) and other allowances, according to the rules of the Corporation in force, as amended from time to time.
Other allowances /benefits include HRA/subsidized housing accommodation (depending upon place of posting), medical facilities, performance related pay, gratuity, contributory provident fund, employees pension scheme, group personal accident insurance scheme, leave encashment, leave travel concession (LTC)/ LFA, contributory superannuation benefit fund scheme, conveyance advance/ maintenance reimbursement, performance related incentives (PRP) etc as per rules of the corporation.
The Cost-to-Company (CTC), will be about Rs 10.00 lakhs (pre-revised) per annum inclusive of performance related pay (PRP). The actual CTC will vary depending on place of posting, financial performance of the Corporation and also performance rating of individual. The remuneration of the executives in currently under review
The basic pay is due for revision and considerable increase in remuneration is expected.
Age Limit – Assistant Officer (Quality Control) in Marketing Division
Maximum 30 years as on 30th June, 2018 for general category candidates. Age relaxation for OBC (Non Creamy Layer)/SC/ST/PWD candidates will be applicable as per the Presidential Directives.
How to Apply:
Application for both the positions is a two stage process:
STAGE -1
On-line registration for GATE- 2018 examination
STAGE – II
On-line application in IndianOil with GATE-2018 registration number after down loading
GATE-2018 admit card.
Last Date of submission of on-line application (website closure) including upload of supporting documents (Photograph, Proof of Eligibility etc) for GATE-2018 : 5th October 2016
View Notification (For More Details)