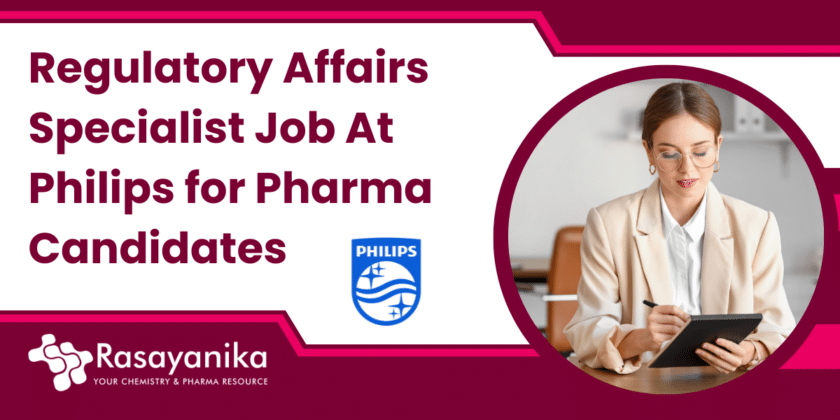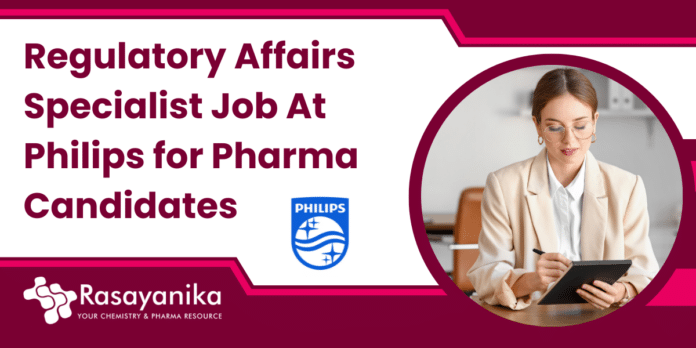 Regulatory Affairs Specialist Job At Philips for Pharma Candidates
Regulatory Affairs Specialist Job At Philips for Pharma Candidates. Interested candidates check out the details below and Apply Online
Job Title: Regulatory Affairs Specialist

Company Name:  PHILIPS
Job Location: Pune, India
Job id: 501162
Job Category: ICON Full Service & Corporate Support
Job Type: Full time
Job Description
Role:
Compile & review the necessary local/in‐country documentation for relevant stakeholders to complete registration activities.
Provides information entry into regulatory databases, submissions software programs, AI regulatory intelligence and decision systems, and creates reports as required.
Preparing and maintaining product registration files to obtain or to keep marketing approval and import licenses per local Regulatory requirements for CE marked/FDA cleared devices in the countries of IGT-D's distribution (EMEA, LATAM & APAC) to ensure that IGT-D's products comply with the regulations.
Ensure completion of the International Registration Schedule and report progress per established KPIs to introduce new products and keep continuous products access to the Markets, under the guidance of a country specialist or regional manager.
Preparing regulatory filings for new products, as well as significant post market changes. As necessary, reviews complex regulatory issues with RA manager.
Manage records retention (Licenses/submissions) per company policy.
Controls the distribution approvals process for products throughout the life cycle.
Work with team members on regulatory intelligence & regulatory topics to support stakeholders.
Assists implementation of global regulatory strategy and roadmaps through understanding the competitive market landscape and product marketing strategy.
Engages in continuous learning activities to maintain technical competence in the product areas supported.
Adopt a First-time right submission's culture (for Registrations, RE-Registrations and Renewals)
Adopt an audit-ready culture.
Identifying Process optimization to strengthen the International Regulatory Department and implement required improvements.
Providing accurate and consistent regulatory recommendations, decisions, and feedback to RA stakeholders. Communicates with knowledge, consistency, and clarity to maintain integrity and impact of the message.
Following Quality System procedures to ensure compliance with all other applicable regulations.
Essential Qualification: 
1. Experience. 5+ years of related experience, possessing a minimum of 3 years of experience in the Medical Device Industry
2. Skills. Must have working knowledge of FDA, ISO 13485, EU MDR, and other applicable regional regulations for handling complaints, reporting incidents, and implementing corrective and preventative actions.
3. Education. Bachelor's or master's degree in a relevant field such as Biomedical Engineering, Pharmaceutical Sciences, Life Sciences, or a related discipline
4. Excellent communication both written and verbal as well as have experience with communication and presentations to senior leadership.
5. Demonstrated experience in multiple types of International regulatory submissions (Europe, South Korea, Taiwan, Kingdom of Saudi Arabia, Brazil, Russia, Australia, Mexico, Singapore, India, among others
Here are Possible interview questions along with their sample answers for  Regulatory Affairs Specialist job application:
1. Question: Can you describe your experience in preparing and maintaining product registration files to ensure compliance with local regulatory requirements for CE marked/FDA cleared devices in different regions?
Answer: In my previous role as a Regulatory Affairs Specialist, I have been responsible for compiling and maintaining product registration files for medical devices in various regions, including EMEA, LATAM, and APAC. I have successfully obtained marketing approvals and import licenses by thoroughly understanding and complying with the specific regulatory requirements of each country. I maintain accurate and up-to-date documentation, ensuring that our products meet all necessary regulatory standards throughout their lifecycle.
2. Question: How do you stay updated with the latest regulatory changes and updates in the medical device industry, especially related to FDA, ISO 13485, and EU MDR?
Answer: As a Regulatory Affairs Specialist, I consider staying updated with regulatory changes as a top priority. I actively participate in continuous learning activities, attend relevant workshops, seminars, and webinars, and am a member of professional regulatory associations. I also regularly review and analyze regulatory publications and guidance documents issued by regulatory agencies such as the FDA, ISO, and the EU. This helps me ensure that our company is compliant with the latest regulations and that our products maintain their approvals in various markets.
3. Question: Can you provide an example of a complex regulatory issue you encountered and how you resolved it in collaboration with your RA manager?
Answer: One complex regulatory issue I faced was during the submission process for a new medical device in a specific country. The regulatory requirements were evolving rapidly, and we needed to ensure our submission complied with the latest changes. I collaborated closely with my RA manager to conduct a thorough gap analysis and engage with the local regulatory authorities for clarification. We revised our submission strategy, addressing the changes proactively, and ultimately obtained the necessary approvals. This experience taught me the importance of agility and effective communication with regulatory authorities to navigate challenging situations successfully.
4. Question: How do you ensure an audit-ready culture and adherence to Quality System procedures within the International Regulatory Department?
Answer: Maintaining an audit-ready culture is vital in the medical device industry. To achieve this, I consistently emphasize adherence to Quality System procedures and regulatory guidelines within the International Regulatory Department. I conduct regular internal audits to identify any potential non-compliance issues and work with cross-functional teams to implement corrective actions promptly. Additionally, I ensure that all regulatory documentation, including submissions and licenses, is appropriately organized and readily accessible for any external audits. This proactive approach helps us maintain a state of audit readiness at all times.
5. Question: How do you approach communication and presentations to senior leadership regarding regulatory recommendations and decisions?
Answer: When communicating with senior leadership, I ensure my messages are clear, concise, and well-structured. I present regulatory recommendations and decisions supported by solid data and evidence. I focus on the impact of our regulatory strategies on business objectives, emphasizing the importance of compliance in maintaining product access to global markets. Additionally, I am open to addressing any questions or concerns raised by senior leadership and strive to provide timely updates on regulatory initiatives and progress. Effective communication is key to gaining support for regulatory initiatives and fostering a collaborative environment within the organization.
Subscribe Rasayanika for more Chemistry and Pharma job updates.