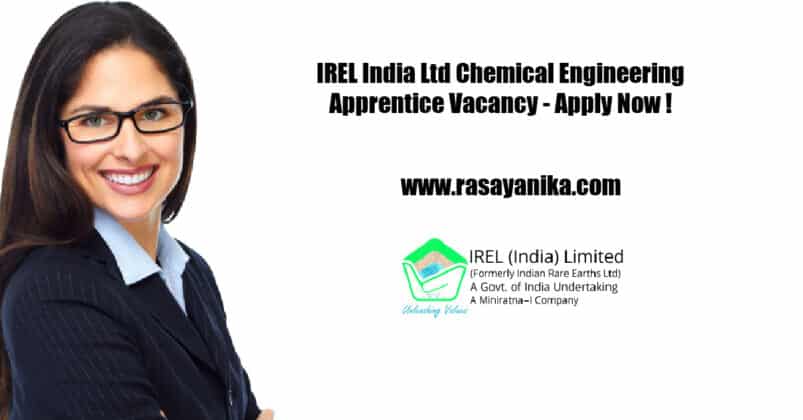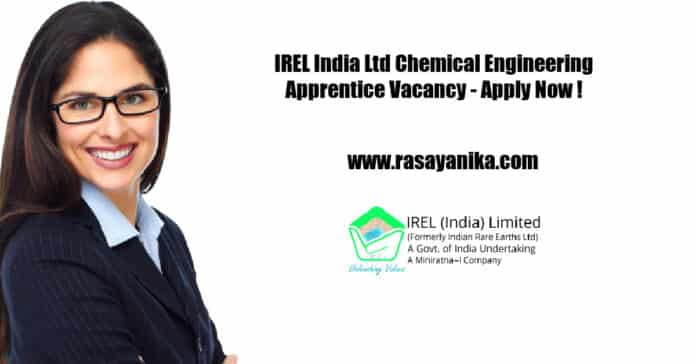 IREL India Ltd Chemical Engineering Apprentice Vacancy – Apply Now !
Rare Earths Division of IREL (India) Limited (formerly Indian Rare Earths Limited), invites applications from eligible Indian nationals meeting the following eligibility criteria for engagement of 22 Apprentices under Apprentices Act, 1961 at Rare Earths Division, located at Udyogamandal, Kochi, Kerala. Check out all the details on the same below:
Trade: Chemical Engineering
Qualification: Graduate in Chemical Engineering
Duration: 1 Year
Seats of Traning: 4
Candidates with qualifications acquired through Distance Learning Mode or Part
Time Mode or Correspondence Mode shall not be considered.
Candidates who have already undergone or are currently undergoing
Apprenticeship training under Apprentice Act, 1961 in any Govt. / Public Sector/ Private
Industrial organizations is NOT eligible.
 Candidates having higher/professional qualifications need not apply.
As on the last date of application, the age of the candidate should be a minimum of 18
years and a maximum of 25 years. Age relaxation for SC/ST categories is up to 5 years, for OBC (NCL) up to 3 years, and for PWBD up to 10 years.
 Duration of the apprenticeship is as shown in the table above for the respective
Trades.
Rate of stipend of the apprentices will be as prescribed under the Apprenticeship
Rules, 1992 and as notified by Government from time to time.
 During the period of training, IREL (India) Limited will not provide any other
benefit or financial assistance to apprentices.
Reservations will be applicable as per the prescribed percentage applicable to
the State of Kerala. Relevant Government guidelines with regard to reservation
for engagement of apprentices shall apply
Selection Methodology
The candidates who are fulfilling the criteria w.r.t educational qualification and
age are only eligible for engagement as apprentices on the basis of merit list
based on marks scored in specified educational qualification, subject to being
found "Medically Fit" by Company's authorized Doctor. Wherever there is a tie,
higher marks of specified educational qualification will be taken. If both are
equal, seniority of date of birth will be taken.
 The following priority (as applicable to RED) will be adopted for the selection of
apprentices:
A. Candidates belonging to Land Affected Category (in respect of RED, if any,
applicable) (Documentary proof to be enclosed)
B. Candidates from the peripheral villages situated within 10km radius of Rare
Earths Division (RED) (Documentary proof to be enclosed) and wards of
serving employees.
C. Ernakulam District (Documentary proof to be enclosed)
D. Kerala State (Documentary proof to be enclosed)
E. Others
 In case final aggregate marks is not mentioned in the Certificate or in Final mark sheet, total marks of all the semesters/ years will be considered as the marks
scored in the Qualifying Examination.
Wherever CGPA or other grades in qualifying examination are awarded,
equivalent percentage of marks should be indicated in the application as per
norms adopted by concerned University/ Institute. The candidate shall be
required to submit a certificate to this effect from the University/ Institute at the
time of document verification.
Candidates will be called for document verification in the order of merit. They are
required to submit ORIGINAL documents along with one set of self-attested
photocopies of documents with regard to educational qualification, age and
caste/ PWBD (if applicable) and other documents as specified in the
advertisement. Candidature will be rejected in case candidates fail to produce
the original document or he/ she is found not satisfying the eligibility criteria.
 Shortlisted candidates shall undergo Medical Examination and will have to be
declared "Medically Fit" by Company authorized Medical Officer before
engagement as Apprentice. Final selection of the candidate is subject to medical
fitness by Company authorized Medical Officer.
Rare Earths Division (RED) being highly protected area, Apprentices will be
allowed entry only after submission of Police Verification Certificate duly issued
by concerned Police authorities of the area in which the candidate normally
resides. Candidate may take parallel action to obtain the Police Verification
Certificate, which is a mandatory requirement, to be produced upon Selection
prior to joining the training.
If selected, candidates, can be assigned to any Department of the unit for the
Apprenticeship Training.
The selected candidates shall execute a contract with the respective authority as
per the Apprentices Act.
 The candidates should NOT have undergone an Apprenticeship either in IREL (India)
Limited or in any other organization, earlier or pursuing Apprenticeship Training
as per the Apprentices Act, 1961, as amended from time to time.
 IREL (India) Limited shall have no obligation to offer regular employment to
Apprentices during and/ or after the completion of the apprenticeship period.
After successful completion of the Apprenticeship period, candidates shall be relieved
from the respective work area.
 Any corrigendum/ addendum etc. or updates with regard to this advertisement
shall be made available on our website www.irel.co.in only. Candidates are
thus advised to periodically visit our above websites as all future correspondence
and latest information shall be available only on our website.
The candidature of the applicant would be provisional and subject to subsequent
verification of certificates. In case it is detected at any stage of an engagement or
thereafter that a candidate does not fulfill the eligibility norms and/or that he/
she has furnished any incorrect/ doctored/ false information/ certificate/
documents or has suppressed any material fact(s), his/ her candidature will
stand canceled. If any of these shortcomings is/ are detected even after
engagement, his/ her engagement is liable to be terminated.
 The decision of Management will be final and binding on all candidates on all
matters relating to eligibility, acceptance, or rejection of the applications, mode
of selection, cancellation of the selection process either in part or full, higher
qualification etc. No correspondence will be entertained in this regard. Filling up
of the seats for training is solely at the discretion of the management based on
suitability of candidates and no claim will arise for engagement if some of these
seats are not filled due to unsuitability/ insufficient number of candidates.
 Applications that are incomplete or do not fulfilling the eligibility criteria shall not
be considered "Eligible" and treated as "Rejected".
 Service Terms and conditions of the apprentices shall be governed by The
Apprentices Act, 1961 and Apprenticeship Rules 1992 as amended from time to
time.
How to apply for an Apprenticeship
Interested eligible candidates for Technician Apprentices and Graduate Apprentices, must enroll themselves in the National Apprenticeship Training Scheme (NATS) Portal of MHRD before applying against this advertisement. If not enrolled, candidates may register at https://portal.mhrdnats.gov.in. Eligible candidates for Trade Apprentices must register themselves in the Portal of Ministry of Skill Development And Entrepreneurship, Government of India before applying against this advertisement. If not registered, candidates may register at http://www.apprenticeship.gov.in or https://apprenticeshipindia.org/.
The applications will not be accepted without registration in the above-mentioned
web portal.
The candidates for Trade Apprenticeship have to apply for the respective
apprenticeship through the Establishment Registration No. E11153200006 and
candidates for Technician Apprentices and Graduate Apprentices have to apply
for the respective apprenticeship through the Establishment Registration
No.SKLERC000015.
The last date of online application shall be 21.11.2021. Application received online after the said data will not be considered for processing. Applications candidates which have been received already during this financial year also shall be considered.
However, submitting the hardcopy of the application is a must for screening/
selection. The application should be submitted in the proforma given in this
advertisement as in Annexure A, preferably in A4 size paper. The envelope
should be superscribed "APPLICATION FOR ENGAGEMENT OF APPRENTICES AGAINST NOTIFICATION NO. IREL/RED/Apprentices Engagement/2021/01"
Candidates should submit self-attested photocopies of the following certificates/
documents along with their application:
a. 10th pass/Matriculation certificate issued by the concerned Education Board/
Birth Certificate issued by the Concerned Authority as proof of date of birth.
No other document will be accepted for verification of date of birth.
b. 10th Mark Sheet.
c. SC/ ST/ OBC (NCL)/ EWS/ Disability certificates by reserved category
candidates in the prescribed format issued by the Competent Authority. OBC
non-creamy layer status should be valid and be issued by the Competent
Authority.
d. Declaration form by OBC-NCL, as applicable.
e. For Trade Apprentices, Semester-wise/year-wise mark sheets and ITI Pass
certificate in respective Discipline; for Diploma Apprentices, Semester-wise/
year-wise mark sheets and Certificate of full-time Diploma in Engineering
and for Graduate Apprentices, Semester-wise/ year-wise mark sheets and
Certificate of full-time Engineering Graduation Degree.
f. Nativity Certificate.
g. Aadhaar Card.
The duly filled in application form affixing passport size photograph of the
applicant on the space provided along with all supporting documents is required
to be sent to the following address:
Senior Manager (L & ER)
IREL (India) Limited, Rare Earths Division,
Udyogamandal, Kochi-683501
 The filled-in application (Hard Copy) should reach us on or before 24.11.2021.
Applications received after 24.11.2021 for any reasons will not be considered.
Important Dates: 
Last date of receipt of online application 21.11.2021
Last date of receipt of Filled in the application (Hardcopy as per proforma), along with requisite documents 24.11.2021
View Main Notification
Editors Note: IREL India Ltd Chemical job, IREL India Ltd Chemical , IREL India Ltd Chemical Subscribe to Rasayanika for the latest chemistry and Pharma job openings, follow us on Facebook and Telegram and subscribe to our youtube channel for the latest updates on chemistry and Pharma jobs and much more.