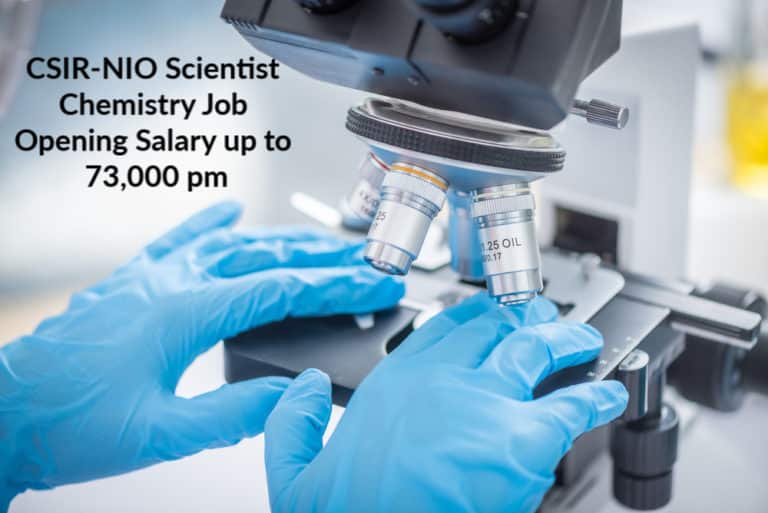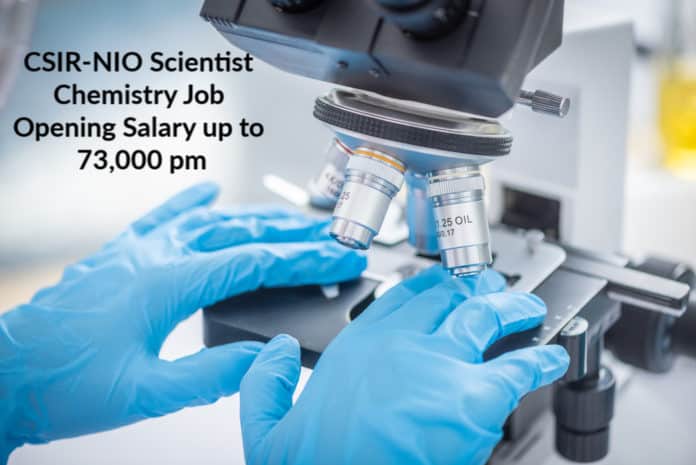 CSIR-NIO Scientist Post Vacancy – Chemistry Job Opening
CSIR-NIO Scientist Post The CSIR-National Institute of Oceanography (CSIR-NIO}, Goa a premier Institute under Council of Scientific & Industrial Research (CSIR) involved in multidisciplinary R&D Programme of both basic and applied nature across scientific disciplines for the economic, environmental and societal benefit for the people of India. CSIR-NIO conducts multidisciplinary oceanographic research in traditional branches of oceanography- biology, chemistry, geology & geophysics and physics, in addition to marine instrumentation, ocean engineering, machine design and marine archaeology. The Institute has several well-equipped laboratories, state of the art equipment and operates two research vessels Sindhu Sanka/p, and Sindhu Sadhana. For more details visit www.nio.org. The Institute invites applications from Indian nationals to fill up the following positions in Goa and its three Regional Centers in Mumbai. Kochi and Visakhapatnam.
Job Title for CSIR-NIO Job: Scientist
Pay level and Pay Matrix: Pay Level-11 Rs 67700-208700
Age: 32 years.  Details at SI. No. Ill of Age Relaxation
Total Emoluments*Excluding HRA and TA: Rs. 72.439/-
Code for CSIR-NIO Scientist job: S-102
Eligibility: PhD Chemistry
No.of posts: 03
Desirable: Analytical chemistry I Biogeochemistry I Marine chemistry / Pollution / Eco-toxicology / Isotope chemistry. Demonstrated excellence in research through publications in peer-reviewed journals.
Job Specification and Responsibility for CSIR-NIO Scientist Post 
To undertake scientific research in the relevant field at sea and in the laboratory.
Benefits at CSIR-NIO Scientist Post :
1. All posts, as above, carry Pay and usual Allowances i.e. Dearness Allowance (DA), House Rent Allowance (HRA), Transport Allowance (TA) etc., as admissible to Central Government employees at the place of posting and as made applicable to CSI R. Council accommodation will be allotted as per priority to be reckoned from the date of joining/availability, in which case HRA will not be admissible.
2. In addition to the emoluments indicated above, benefits such as reimbursement of medical Expenses, Leave Travel Concession/Computer/House Building Advances are available as per rules of CSIR.
3. The "New Pension Scheme" based on defined contributions as adopted by CSIR for its employees will be applicable to the successful candidate. However, persons selected from other Government departments/Autonomous Bodies/Public Sector Undertakings/Central Universities having Pension Scheme on GOI pattern will continue to be governed by the existing Pension Scheme i.e CCS (Pension) Rules, 1972. •
4. CSIR-NIO provides excellent opportunity for career advancement under Assessment Promotion Scheme.
5. Scientists in NIO are permitted to undertake consultancy and sponsored R&D projects. These projects give them scope to earn consultancy fees and honorarium as per CSIR Guidelines governing these activities. Foreign deputations are encouraged for training and presentation of papers/specific assignments.
6. Deserving candidates may be considered for advance increment as per CSIR Rules.
How To Apply:
1. Eligible candidates are required to apply ONLINE through our website http://www.nio.org.
2 Online Application will be available on our website http://www.nio.org. It opens at 09.00 am on 30.12.2019 and available to apply till 31.01.2020 up to 5.30 pm.
3. Candidates are required to pay Rs.100 /- as application fee through on line through the link available under the payment option in the online application. No other mode of payment of application fee is admissible. The candidates belonging to SC/ST/PWD/Women/CSIR Employees are exempted from submission of application fee.
4. In case of universities/institute awarding CGPNSGPNOGPA grades etc., candidates are requested to convert the same into percentage based on the formula as per their university/institute.
5. The detailed online application procedure will be displayed in CSIR-NIO website http://www.nio.org
6. The candidates are also required to upload scanned copy of his/her recent passport size colour photograph(20-50kb) and his/her scanned signature in black ink (10-20kb) in "jpg" format at the specified respective place for the same in the online application.
7. Candidates should keep a copy of the application and payment details if any for their record . Print out of the application and payment details will not be available after 17.30 hr on 31.01.2020
8. Only a single application will be entertained from each candidate for each postcode. In case a candidate submits multiple applications for a single postcode with different registration numbers and /or with different email ids, only the latest application will be considered.
9. Application once submitted will not be allowed to be withdrawn and fees paid will not be refunded on any circumstances nor can it be held in reserve for any other recruitment or selection process.
10. Applications from employees of Government Departments /autonomous bodies/Public sector undertakings will be considered only if No Objection Certificate (NOC) is uploaded with the online application with a certificate by the employer that the applicant , if selected , will be relieved within one month of receipt of the appointment order. The vigilance clearance should also be compulsorily recorded in the said NOC.
11. Incomplete applications (i.e. without photograph, without signature and without application fee & applicable certificates etc.) will not be entertained and will be summarily rejected.
Online Application will be available on our website http://www.nio.org. It opens at 09.00 am on 30.12.2019 and available to apply till 31.01.2020 up to 5.30 pm.
View Main Notification

Editor's Note: CSIR-NIO Scientist Post NIO Chemistry Jobs – chemistry Project Assistant Vacancy Available, chemistry jobs, Subscribe to Rasayanika for latest chemistry and Pharma job openings. Follow us on Facebook and WhatsApp for latest updates.
Upload your CV to Rasayanika Talent Pool