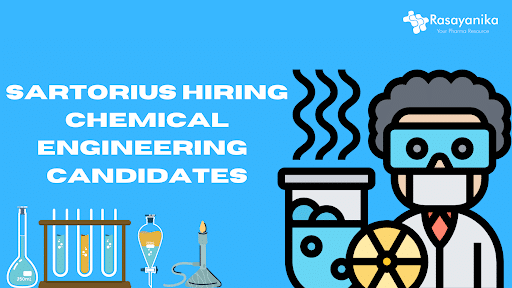 Sartorius Hiring Chemical Engineering Sartorius, a global leader in laboratory and pharmaceutical solutions, is actively seeking talented individuals with a background in Chemical Engineering to join their team as Technology Engineers. If you have a passion for chemical engineering and technology, Sartorius may be the ideal place for your career to flourish. Interested Chemistry and biotech graduates apply for the post of Process Technology Engineer.
Job Title: Process Technology Engineer
Company Name: Sartorius 
Location: Bangalore
Full/Part Time: Full Time
Qualifications required for candidates in Sartorius: Bachelor's degree in Chemical Engineering or related field.
Skills Required for Chemistry Candidates in Sartorius:
Previous 3-4 years Process Engineering experience within biotechnology industry ideally Bioreactors, Fermenters, Crossflow systems & chromatography.

Understanding of

downstream

and upstream processes would be helpful

Experience in working with customers and sales team to create cost quotations

Experience in designing of process & utilities – Preparation of PFD's, P&ID's, equipment sizing calculations

Business fluent English skills and a willingness to travel nationally and internationally approx. 10%.

Strong communication skills

Team player
Job Description:
The process engineer will be using a customer centric approach to build strong relationships, to consult customers, and provide solutions that match their needs. 

They will be responsible for designing biopharmaceutical processes and creating process design documents such as technical drawings (PID | PFD) and carry out cost analyses. 

The Process engineer will be responsible for preparing and tracking the life cycle of customized and standard multi use and single-use systems, when requested internally or by customers, in accordance with the objectives set and the regulatory environment applicable to the products.
Responsibilities of Process Technology Engineer: 
Process engineers will evaluate customer requirements for feasibility and profitability in all project phases.

Focus on the development of process and system solutions in the field of upstream and downstream processing.

Give technical advice to internal and external stakeholders.

Create technical solutions that offer close coordination with our customers and sales.

Responsible for equipment selection for fermentation, bioreactors, TFF, filing lines etc. (Includes selection ATEX and IECeX equipment) 
Tasks of Process Technology Engineer:
Reviewing all aspects of design and construction for consistency and safety including leading HAZOP and PHA reviews

Determine costs and carry out the profitability check of projects.

Create PIDs | PFDs and other design documents in Engineering project phases.

 Support and advise on Factory Acceptance Tests (FAT) and Site Acceptance Tests (SAT).

 A central point of contact in international projects with multicultural teams.

 Working closely with Project Managers and Design Engineers
Possible Interview Question and Answer:
Q: Can you describe the primary focus of this role as a Process Engineer at Sartorius?Answer:

As a Process Engineer, your primary focus will be on developing process and system solutions for upstream and downstream processing in the biotechnology industry.

Q: What skills and experience are required for this role, particularly in terms of process engineering within the biotechnology field? Answer:

We require candidates with 3-4 years of process engineering experience in the biotechnology industry, with expertise in bioreactors, fermenters, crossflow systems, and chromatography.

Q: How important is communication in this role, given the mention of working with customers and sales teams? Answer:

Strong communication skills are essential as you will be working closely with customers, sales teams, and internal stakeholders to provide technical advice and develop solutions that align with customer needs.

Q: Can you explain the role's involvement in equipment selection and safety considerations? Answer:

You will be responsible for selecting equipment for various processes, including fermentation and filling lines. This also involves ensuring safety through processes like HAZOP and PHA reviews.

Q: What types of technical documents will I be responsible for creating in this role? Answer:

You will be creating technical documents such as Process Flow Diagrams (PFDs), Piping and Instrumentation Diagrams (PIDs), and other design documents during various engineering project phases.
Sartorius Hiring Chemical Engineering, Sartorius Hiring Chemical Engineering Looking for latest chemistry and Pharma job openings, follow Rasayanika Facebook and Telegram and subscribe to our youtube channel for the latest updates on chemistry and Pharma job