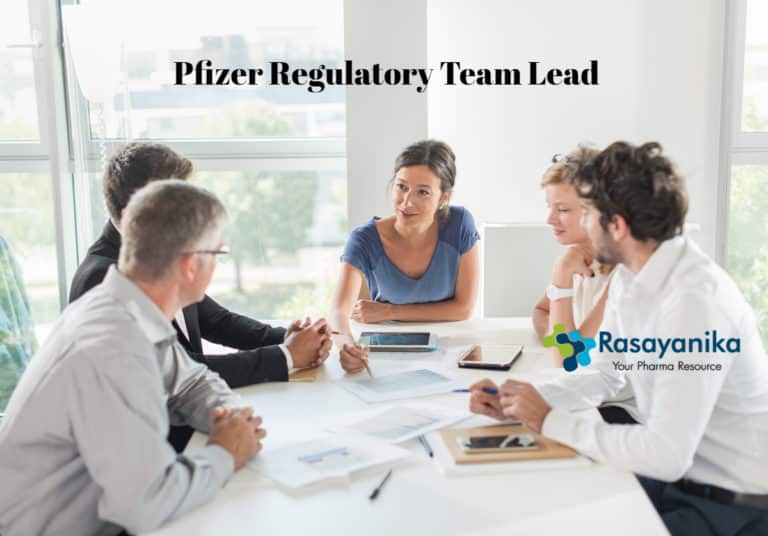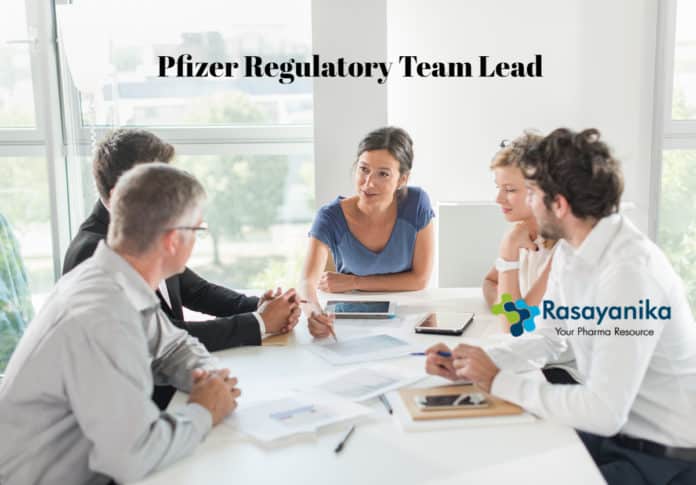 Pfizer Team Lead Regulatory Vacancy – Chemistry & Pharma Apply
Pfizer Job – Pharma and chemistry Vacancy. MPharma candidates are eligible to apply online for a Team Lead Regulatory,Team Lead Regulatory vacancy at Pfizer. Pharma job opening 2020. Check out all the details on our website Rasayanika.com
Job Title: Manager/Team Lead Regulatory CMC
Education and Experience:
Bachelor's degree or equivalent/graduate degree preferred in a pharmaceutical , Chemistry, Pharmacy or related science) &/or technical discipline with 6+ years of experience in the pharmaceutical industry with relevant technical experience (QA,
Technical Services, Operations, Manufacturing or R&D) and 3+ years of pharmaceutical regulatory experience.
Minimum of 2+ years' experience as a people manager
Minimum of 2+ years of hands-on CMC authoring experience (initial registrations or post-approval variations) is preferred.
Advanced skills in written & oral communications are mandatory. Excellent communication skills in English are required.
Computer literacy with Microsoft Office Suite and Documentum-based applications highly desired.
Prior experience managing projects is preferred.
The Manager/Team Leader, Regulatory CMC Strategy, Upjohn is accountable for:
Managing a team of CMC professionals
Ensuring regulatory conformance & consistency globally and in compliance with external regulatory requirements & internal quality procedures.
Demonstrating regulatory knowledge & experience, balanced judgment, crisp decision-making, exemplary collaboration & business acumen, i.e., regulatory strategy development, regulatory submission quality, investigations, review of policy & quality standards
Development and provision of robust regulatory strategies, leveraging both technical & regulatory knowledge, to mitigate risks.
Preparation & Delivery of high-quality CMC regulatory submissions & submission management plans for global regulatory agencies.
Execution of regulatory policies and implementation of policies and operational processes for delivering the product portfolio.
ROLE RESPONSIBILITIES
The Manager, Regulatory CMC Strategy, Upjohn is responsible for:
Serving as CMC representative on a core project(s), managing project activities, assessing regulatory risks & development plans to develop global regulatory strategies for programs in accordance with regulatory, scientific & technical criteria.
Managing regulatory issues, maintaining submission information in relevant CMC systems, tracking regulatory commitments & timelines for specific projects/products/markets with minimal supervision.
Presenting and articulating issues for resolution, communicating regularly with key stakeholders to ensure alignment, providing consultation as a scientific/technical resource for assigned projects, mentoring and sharing the experience with colleagues.
Authoring and/or coordinating CMC activities for new registrations, post-approval changes, renewals, annual reports and line extensions to meet filing requirements. Coordinating & contributing to responses to Agency queries and performing a quality review of regulatory CMC submissions.
Serving as a technical and scientific resource and providing guidance for completion of difficult and complex projects.
Prioritizing & independently completing assigned workload appropriately.
Developing effective relationships with local & global internal partners, i.e., R&D, Global Supply, Quality Operations, Regional and Country Regulatory Leads, Pfizer Regulatory Operations
Developing relationships with regulatory authorities to improve Upjohn's regulatory success.
Executing training-related activities (e.g. compliance-related, HR policies) & individual development plans, participating in cross-disciplinary forums & learning opportunities, engaging in Straight Talk & Listen exchanges, demonstrating & modeling adherence to all Upjohn behaviors & values, embracing & complying with Principles of Integrity.
Managing and contributing to CMC-related projects, initiatives & actions.
Participating, as required, in pharmaceutical industry conferences or serving externally as a representative to pharmaceutical trade group advisory committees relevant to CMC functions.
Mentoring colleagues within a focused area of expertise.
Editor's Note: Pfizer Team Lead Regulatory Subscribe to Rasayanika for latest chemistry and Pharma job openings, follow us on Facebook and Whatsapp and subscribe to our youtube channel for latest updates on chemistry and Pharma jobs and much more.