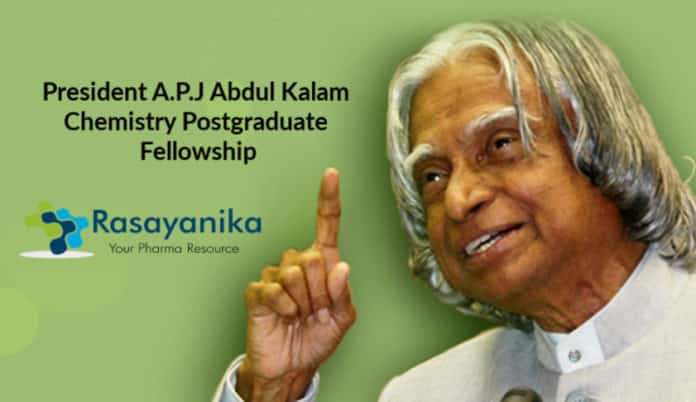 Chemistry Postgraduate Fellowship – APJ Kalam Chemistry fellowship
Chemistry Postgraduate Fellowship Postgraduate Chemistry Fellowship announced. President A.P.J Abdul Kalam Fellowship announced. Official notification for the President A.P.J. Abdul Kalam Postgraduate Fellowship for the year 2020 out. Interested candidates can check out all of the updates on the funding, eligibility, fields of study, application procedure, timelines and other details mentioned below:
Postgraduate Fellowship is announced in honour of President A.P.J. Kalam. President Kalam was a solid advocate for youngsters and an enthusiastic supporter of clean energy and energy independence. He visited the University of South Florida (USF) in 2012 and is remembered affectionately by USF as well as the vibrant Indian heritage community in Tampa Bay, Florida.
Eligibility Criteria For Chemistry Postgraduate Fellowship:
1. Applicants must have submitted an application for the PhD program in any of the subjects listed below to USF (https://www.usf.edu/admissions/) and secured a USF ID.
2. Applicants should satisfy all eligibility requirements for the program of their choice.
3. Candidates should have graduated from or are about to graduate from an Indian University.
Field of Study: Chemistry
Awardees Selection :
USF World, which is only responsible for allocating the award, will set up a review committee to
choose the winning PhD proposition from among those candidates who have been accepted by their department. The committee will be looking for a student with exceptional academic qualifications as well as experienced in the chosen discipline and a well-crafted research proposal. USF World is authorized to make a decision of the Kalam Fellow from recommendations made by the review committee.
Funding:
The University of South Florida will certainly:
Waive all tuition for an overall of approximately four years. Contribute a stipend of $22,000 that is payable in 3 instalments of $8000 each in the fall and spring semesters and $6000 in the summer semester. In addition to waiving tuition fees, this award covers health insurance and also other fees. The stipends will be payable by USF once the winner of the President A.P.J. Abdul Kalam Postgraduate Fellowship at the University of South Florida is enrolled at the university for his/her first term.
How To Apply For Chemistry Postgraduate Fellowship:
All applicants must have submitted a USF grad application and established a university ID number at the USF grad admissions portal before submitting the Kalam Fellowship form. As soon as admitted to USF, the awardee will comply with all USF regulations, procedures as well as procedures and all applicable law. To send the A.P.J. Kalam application, candidates must scan the list below materials and also email them to [email protected] in one composite PDF (please do not send.jpeg files):
Postgraduate Fellowship Application Form
A brief letter detailing your interest in the Fellowship and also your proposed area of study. Curriculum Vitae including your current occupation, your academic as well as professional experience/achievement and proof of scholarly activity.
Statement on intended research for your PhD degree under the Kalam Fellowship.
2 Letters of Recommendation on academic and/or professional letterhead.
Some programs may require a GRE score; please check with individual departments' requirements.
Candidates are strongly encouraged to apply to their academic program as early as possible. Admissions dates vary depending on the program; be sure to check online for your prospective program.
Important Dates:
October 15 – Announcement of Fellowship opportunity sent to the Indian community.
December 1 – February 3 – (Please check individual graduate programs for the due date of application) Applicant should first apply for a graduate program via the USF Graduate Admissions Office, receive a university ID, and after that apply for the Kalam no later than February 3rd.
February 3 – Kalam Applications due to USF.
May 1 – Public announcement of the winner and also the timeline for next year.
Editor's Note: APJ Abdul Kalam Chemistry Postgraduate Fellowship, President A.P.J. Abdul Kalam Biotech Postgraduate Fellowship 2020, President A.P.J. Abdul Kalam Postgraduate Fellowship, Dr APJ Abdul Kalam Postgraduate Fellowship. Subscribe to Rasayanika for latest chemistry and Pharma job openings.