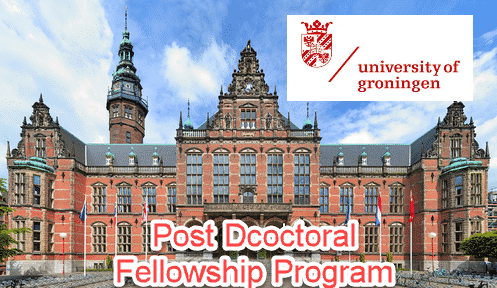 Post Doctoral Fellowship in Chemistry @ University of Groningen
Post Doctoral Fellowship in Chemistry @ University of Groningen
Post Doctoral Fellowship in Chemistry @ University of Groningen. Chemistry Fellowship Program @ University of Groningen. Check out all the details on the same below:
The University of Groningen is a research university with a global outlook, deeply rooted in Groningen, City of Talent. Quality has had top priority for four hundred years, and with success: the University is currently in or around the top 100 on several influential global ranking lists.
FSE Fellowship programme
Our unique FSE fellowship programme offers temporary places for talented junior researchers who want to further develop both their research and teaching abilities. From the start, you'll have a private work and Development Plan (WDP) that describes the specific research, teaching, and training activities you will undertake. You'll receive didactic training in your first year and have the opportunity to obtain a University Teaching Qualification. In addition to the yearly Result and Development Interviews with your managers, you will have a yearly meeting with a career counselor to discuss your career development and plans. A personal budget of a $ 1,000 per year is dedicated for additional training and career activities. We currently offer 13 fellow positions in a broad variety of scientific fields. The fellows' starting date is before April 2019.
Job Description:
The research areas the candidate should work in is either organic synthesis, chemical biology, or biomolecular chemistry. You are expected to provide tutorials in Organic Chemistry (the courses Organic Chemistry I and Organic Chemistry II) and in the practical courses Synthesis I and Synthesis II. When experienced, you will be invited for lectures at the master level in the course Synthesis Methods and Strategy I and II. The position is embedded in the Stratingh Institute for Chemistry.
Condition of Employment:
The University of Groningen offers a starting salary depending on the date you obtained your PhD and your postdoctoral years. The UFO-profile Researcher/Lecturer (scale 10) applies. In addition to the primary salary the University offers 8% holiday allowance and an end-of-year bonus of 8.3%:
• 0 years: € 3,255 gross per month for a full-time position
• 1 year: € 3,389 gross per month for a full-time position
• 2 years: € 3,514 gross per month for a full-time position
• 3 years: € 3,637 gross per month for a full-time position.
You will have an initial appointment of one year that will be extended by 3 years if you perform satisfactorily. The fellowship will not be extended after the four years period.
How To Apply:
You may apply for this position until 25 November 23:59h / before 26 November 2018 Dutch local time by means of the application form (click on "Apply" below on the advertisement on the university website).
Interested candidates are invited to submit a complete application including:
• a letter of motivation
• a curriculum vitae, including a list of publications
• a short description (max 1 A4) of your teaching interests (extra attachment 1)
• a short description (max 1 A4) of your scientific field of interest (extra attachment 2).
Last Date To Apply: until 25 November 23:59h / before 26 November 2018 Dutch local time