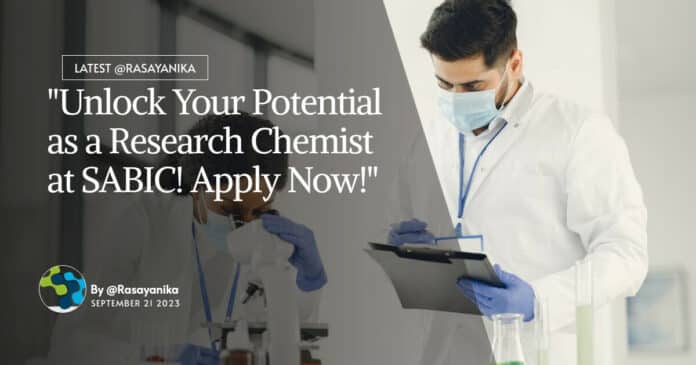 SABIC Bsc Msc Chemistry – Research Chemist Job at SABIC
Job Title: Research Chemist
Org Unit Name: Analytical Separation Science & Technol.
Location: India-Bangalore
The Analytical Science team is part of the SABIC Corporate Technology and Innovation (T&I) organization, with 10 locations across the globe. The Analytical Science team provides a broad range of technical input for innovation projects, manufacturing issues, and customer solutions via differentiated solutions in the area of chemicals and materials analysis. The team works across organizations and functions to help solve technical challenges in a project-based organization for multiple SBUs, Corporate, Customer, and Manufacturing needs.
We currently looking for a talented individual with a technical, science oriented degree to join our team in Bengaluru (India) to support product stewardship testing programs. This is a remarkable opportunity to work with the latest characterization technologies for polymers and chemicals analysis, in collaboration with other analytical scientist and product developers as part of a global team.
JOB PURPOSE
Primary responsibilities for this position is to provide material characterization support in the field of chromatography to the requestors, who are working on various research programs resulting in new products/processes, new application or productivity improvement for various business units of SABIC
(Polymer, Chemical, Agri-Nutrients and SHPP)
JOB RESPONSIBILITIES
Assist the team in conducting the compositional characterization analysis adopting various available chromatography techniques and reporting of findings for further deliberation and discussions with the stakeholders.
Perform assigned task independently as per the instruction provided with minimal supervision and ensure data integrity and reporting with good accuracy
Engage and collaborate for new method development and maintain technical documentation.
Tracking of Instrumental service records & management of AMC's with appropriate planning
Ensure safety of work as per SHEM operational process and perform the assigned activities in accordance to the safety requirements specified in AIM (ISO 14001)
Management of chemical inventory and maintaining good housekeeping in the lab
MINIMUM EDUCATION/EXPERIENCE REQUIREMENTS
Masters in chemistry with 1-3 years' experience, Bachelors in Chemistry with 3 to 7 years' experience more specifically in chromatography techniques (GC and LC segment).
Basic understanding and practical knowledge in handling of GC-FID, GC-MS, HS GC-MS, LC, LC-MS, GPC.
Strong hands-on lab experience including sample preparation, instrument operation, data processing and interpretation (adopting statistical tools).
Strong communication and writing skills
Knowledge in regulatory data submission, quality management systems and experience in handing and characterization of petrochemical based crude feedstock (SARA, AP, ASA, TGA-MS, MCRT, SIMDIS-GC, DHA-GC) would be an added advantage
ABOUT SABIC
SABIC is a global diversified chemicals company, headquartered in Riyadh, Saudi Arabia. SABIC manufactures on a global scale in the Americas, Europe, Middle East and Asia Pacific, making distinctly different kinds of products: chemicals, commodity and high performance plastics, agri-nutrients and metals.
SABIC supports its customers by identifying and developing opportunities in key end-use applications such as construction, medical devices, packaging, agri-nutrients, electrical and electronics, transportation and clean energy. Production in 2019 was 72.6 million metric tons.
SABIC has more than 33,000 employees worldwide and operates in around 50 countries. Fostering innovation and a spirit of ingenuity, SABIC has 12,540 global patent filings, and has significant research resources with innovation hubs in five key geographies – USA, Europe, Middle East, South Asia and North Asia.
Keywords: SABIC Bsc Msc Chemistry, Research Chemist, SABIC, Analytical Science, Chromatography, Chemicals, Materials Analysis, Polymer, Analytical Scientist