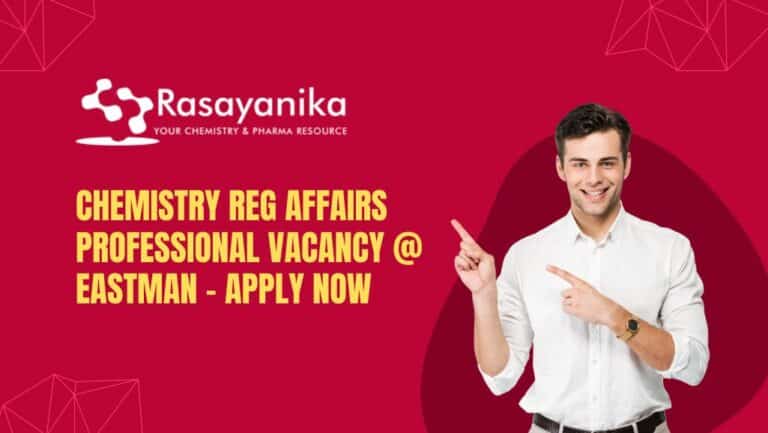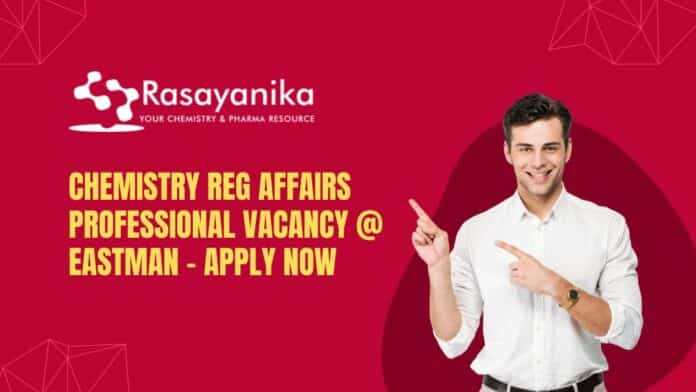 Chemistry Reg Affairs Professional Vacancy @ Eastman
Eastman is a global speciality materials company that produces a broad range of products found in items people use every day. Chemistry candidates come and join hands with this great company. Check out all the details on Rasayanika.com
Job Title: Reg Affairs Professional – Experienced
Qualifications
Bachelor's or Master's degree in chemistry, biology, or a relevant technical field
A minimum of 5 years' experience in PSRA
Experience in product stewardship and/or project management is preferred
Association or government agency background is a plus
Role Description
To support business growth within the Southeast Asia (SEA) and India, Eastman is looking for a highly motivated individual to join our Product Steward & Regulatory Affairs (PSRA) team. The PSRA Representative is a key member of the company that links Eastman's Business Units (BUs, excluding Coating & Inks, Animal Nutrition and Crops), Technology (R&D), Legal and the larger Global Product Stewardship & Regulatory Affairs (PSRA) organization. This role collaborates closely with regional members of the product, marketing, technology, and Product Stewardship teams around the world to ensure operational compliance, support business growth and provide proactive services to the relevant BUs in accordance with the defined regional and
global business strategies.
Responsibilities
Relationship management (internal and external):
Build close relationships with regional businesses, technology personnel, other supporting functions, assigned regional PSRA for specific businesses and the Global PSRA team.
Develop and document business specific PSRA objectives and ensure regular communication on risks, needs, priorities and agreed actions.
Regulatory understanding and leveraging:
Develop deep understanding of specific product lines.
Enforce PSRA processes and follow global chemical management procedure to ensure regulatory compliance and lead business growth projects in SEA & India.
Identify and communicate the critical regulatory/customer issues that will drive change. Provide practical solutions to businesses and our India-based Technical Center in addressing these changes.
Facilitate external communication of customer requests including Safety Data Sheets, labels and various regulatory questions via Eastman's Customer Inquiry Management system and business/ technology partners.
Engage PSRA colleagues in Europe and the United States. Share the latest regulatory trends with regional business units and follow up as needed.
Project management:
Lead/facilitate business growth & advocacy plans with stakeholders, as appropriate.
Advocacy: Network with key government agencies and trade associations as Eastman's representative.
Chemistry Reg Affairs Professional Looking for latest chemistry and Pharma job openings, follow Rasayanika Facebook and Telegram and subscribe to our youtube channel for the latest updates on chemistry and Pharma jobs and much more