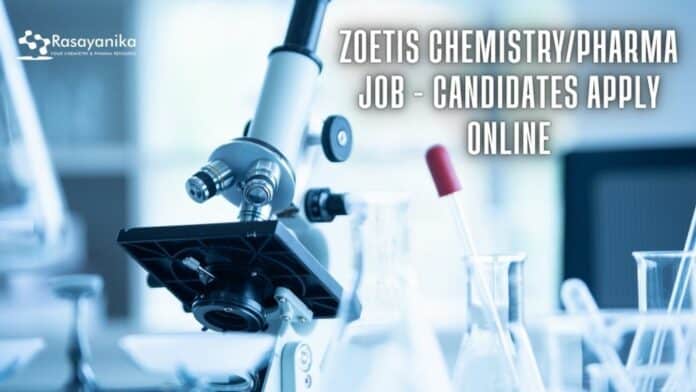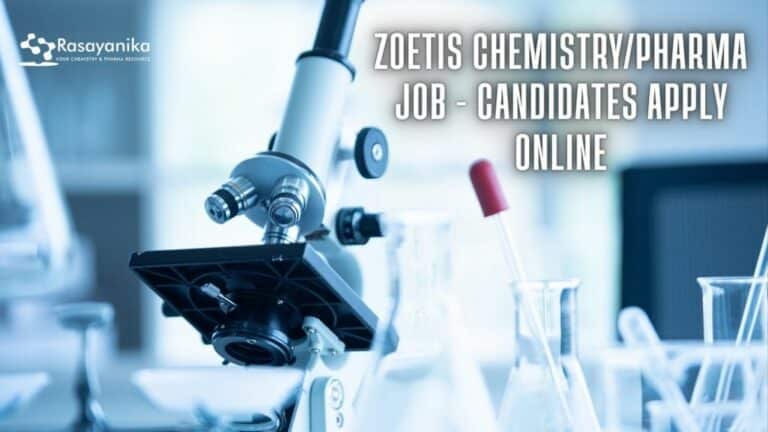 Zoetis Chemistry/Pharma Job – Candidates Apply Online
Zoetis invites candidates with a degree in Pharma or Pharmaceutical chemistry for the post of Scientist. Candidates with analytical research experience in Pharmaceutical R&D or M Pharm in Pharmaceutical Technology may apply for this post online. Check out details
Job Title: Senior Associate, Strategic Sourcing (BPS) (08052023)
Location: Navi Mumbai, India
Eligibility Criteria:
A Bachelor's degree in Chemistry, Pharmaceutical Sciences, Supply Chain, Finance, Life Science, Engineering, or a related field. MBA is preferred.
Other attributes desirable
Exhibits a thorough understanding of pharmaceutical procurement and stays current with new developments and trends in that area.
Understands the Indian Indirect Taxation and accounts payable modalities.
With general guidance able to work independently based on specific Prioritizes tasks; keeps management/team informed of progress. Displays knowledge of project goals.
Demonstrates the ability to identify and recommend solutions to different business scenario.
Experience from a project management role under a construction consultancy organization or a facility/real estate manager role under a multinational company is desired but not a must.
Excellent people skills, project management skills, good business acumen and a team player.Proactive and result oriented.
Ability to work in multi-tasking and a multi-cultural environment.
Understanding of continuous improvement systems and practices viz. Six Sigma, Lean management etc. would be an added advantage.
Experience  & Skills: 
Minimum of 5 yrs. strategic sourcing experience, Biotech/Pharmaceutical experience is ideal. Preferred experience of managing R & D procurements.
Experience in developing, managing supply options chemicals bulk, laboratory, laboratory supplies/consumables and bulk chemicals supply options. Supplier base knowledge will be added advantage.
Comfortable with figures and number viz. collecting, analysing, and interpreting data. Experience in developing sourcing budgets preferred.
Excellent with procurement documentation practices viz., supplier due diligence, business case, justification note etc.
Familiar with procurement process of requesting vendor information (RFI), quotations (RFQ), proposals (RFP), bidding, commercial negotiation.
Experience negotiating contracts; strong analytical capabilities to evaluate deals and understands fair and optimal pricing structures.
Advanced MS Excel skills.
Experience working in a matrix environment with indirect reporting structures.
Specialized technical expertise in one or more of the following areas (operations, supply chain, biotech/pharma R&D, GMPs, Sourcing, business acumen).
Ability to communicate effectively with business unit clients, Excellent presentation skills.
Ability to develop, enhance and execute on processes and procedures; regularly contributes to development of new or enhancement of existing business process methodologies and tools.Strong project management skills.
Working in a GMP environment with understanding of regulations preferred but not required.
Hands on experience in ERP system (SAP preferred).
This position will be responsible to work with cross-functional teams & interfaces with key internal clients to understands their sourcing needs, performs market research, devises sourcing strategies, leads supplier selection process (e.g., competitive bidding, partnership development, consolidation/reducing complexities of the buy, etc.) and negotiates agreements. In addition, this role leads broader category management including supplier relationship management by partnering with the assigned business units to facilitate supplier performance monitoring, continuous improvement, and innovation. The position will be responsible for procurement and sourcing documentation including authoring standard practices and ERP data creation. The role is required to work cross-functionally and supply partners to proactively address potential inflationary impacts on goods and services. The position should. Should understand the global market and bring in solutions to enhance sustainability
Zoetis Chemistry/Pharma Job Looking for latest chemistry and Pharma job openings, follow Rasayanika Facebook and Telegram and subscribe to our youtube channel for the latest updates on chemistry and Pharma jobs and much more