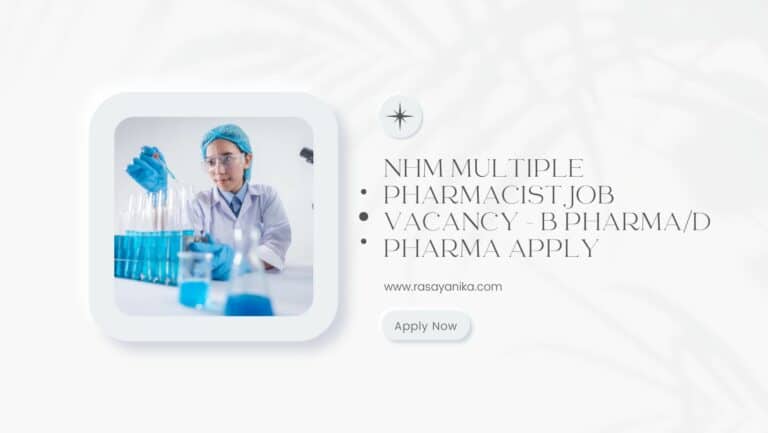 NHM Multiple Pharmacist Job Vacancy – B Pharma/D Pharma
Govt Pharma job opening 2022, NHM job opening 2022, Pharmacy job opening 2022, NHM, U.P. is seeking applications from eligible candidates for 17000+ contractual vacancies of Lab Technician & Pharmacist-Allopathic detail of which is mentioned below: –
Program Name: NUHM
Job Title: Pharmacist Allopathic
Eligbility Criteria: INTERMEDIATE WITH DIPLOMA IN PHARMACY/DEGREE IN PHARMACY.
REGISTRATION FROM UTTAR PRADESH PHARMACY COUNCIL AT THE TIME
OF ONLINE SUBMISSION OF APPLICATION
Program Name: DHS
Job Title: Pharmacist Allopathic
Eligbility Criteria: INTERMEDIATE WITH DIPLOMA IN PHARMACY/DEGREE IN PHARMACY.
REGISTRATION FROM UTTAR PRADESH PHARMACY COUNCIL AT THE TIME
OF ONLINE SUBMISSION OF APPLICATION
Program Name: RBSK
Job Title: Pharmacist Allopathic
Eligbility Criteria: INTERMEDIATE WITH DIPLOMA IN PHARMACY/DEGREE IN PHARMACY.
REGISTRATION FROM UTTAR PRADESH PHARMACY COUNCIL AT THE TIME
OF ONLINE SUBMISSION OF APPLICATION
Age: 18 to 40 years
Note:-
1. Reservation will be provided as per applicable reservation rule to candidates who are original inhabitants of Uttar Pradesh (domicile of Uttar Pradesh only).
2. Candidate not having domicile of Uttar Pradesh will be treated under Un-reserved category and may apply as Un-reserved category candidates.
3. Only female candidates can apply for ANM position and as per The
GoUP Gazette number 622/paanch-8- 2016-N(92)-86-TC 1 dated 11-02-2016 wherein 90% and 10% vacancies has been earmarked for Female and Male candidates respectively shall be applicable for Staff Nurse Positions.
4. Relevant required documents should be uploaded by Candidate at the time of online submission of application.
5. Candidate belongs to OBC (NCL) category and EWS category and claim benefit of the same, must provide the required OBC (NCL) Certificate and EWS Certificate duly issued from competent authority at the time of Document Verification Process (DVP) on the attached format (Annexure-1 & 2), not older than 01.04.2022.
6. In case of Female candidate, the valid caste certificate issued from father side will be treated valid
7. OBC Candidate of creamy layer is not entitled for reservation
INSTRUCTIONS FOR FILLING ONLINE APPLICATION FORM:
Online recruitment application is spread over different Modules/Sections designed to capture information of the candidates related to Personal Information, Contact details, Age, Educational Qualification and upload of relevant document etc. Details can be filled in multiple sessions after Registration. Before closing each session, applicants must save the information filled by clicking 'Save' button.
SELECTION PROCESS
Before applying, candidates should ensure that they fulfill the eligibility criteria. Admission to Computer based Test will be purely provisional. Candidature will be subject to verification of details/documents when the candidate reports for document verification, if shortlisted. At the time of document verification process, Candidate has to produce only those documents which have been uploaded by him/her during online submission of application.
TEST CITIES: The Computer Based Test will be held at major cities of Uttar Pradesh as mentioned in the online application form. Candidates may opt for three test cities preferred from the list and the same cannot be changed after the online form is submitted. NHM reserves the right to allocate any test city or change the test city opted by the candidate. NHM reserves the right to add or delete any city(s) from the list based on the number of applicants.
COMPUTER-BASED TEST: The Computer based Test will be held for duration of 2 hours (in one sitting) consisting of two sections of total 100 marks. Section-I (80 Marks) will consist of Professional Knowledge (Discipline/Domain related) and Section-II (20 Marks) will consist of General Aptitude, Reasoning, General Awareness and Basic Computer knowledge with 100 multiple choice questions (MCQ). Each question will carry 1 mark and there is NO NEGATIVE marking for wrong answer. No marks will be
awarded for un-attempted questions.The question paper shall be set in bilingual language i.e. English and Hindi only. However, in case of any inconsistency in Hindi version, the English version of the question shall be valid & final.
Closure of Online Application form 12.12.2022 at 11.55 PM (midnight)
Editors Note: NHM Multiple Pharmacist Job Subscribe to Rasayanika for the latest chemistry and Pharma job openings, follow us on Facebook and Telegram and subscribe to our youtube channel for the latest updates on chemistry and Pharma jobs and much more.