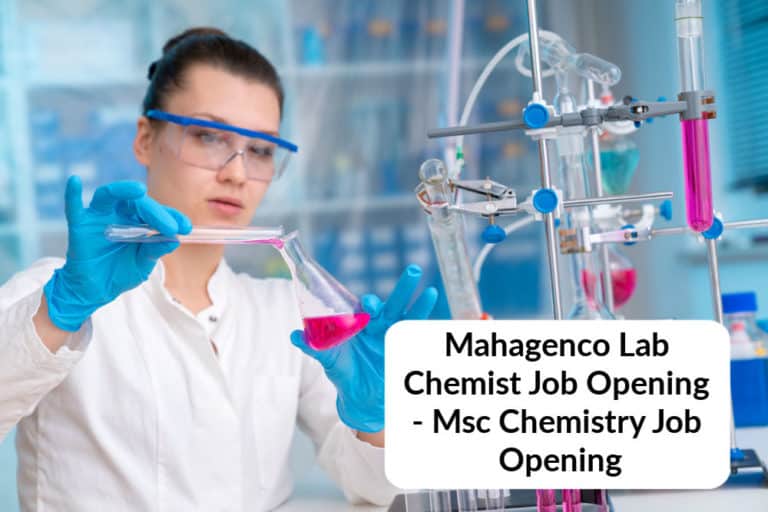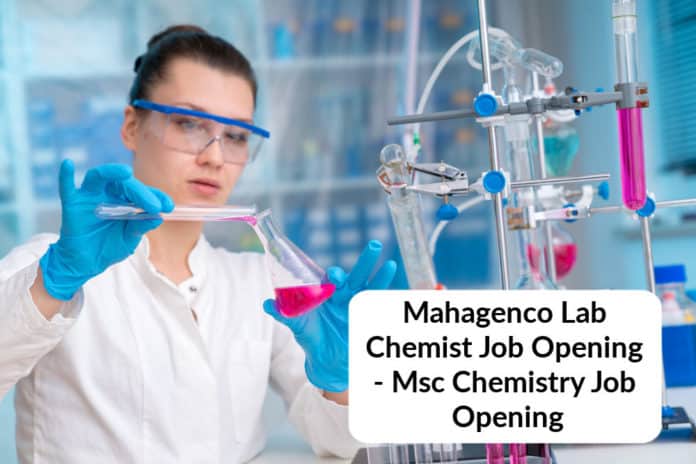 Mahagenco Lab Chemist Job Opening – Msc Chemistry Job Opening
Mahagenco Lab Chemist Job Job Opening with Mahagenco second-largest power generation utility in the country. MSc Chemistry job opening at Mahagenco. Mahagenco invites postgraduate MSc candidates for the post of chemist and lab chemist. Interested and eligible candidates may apply. Check out all the details on the same below:
Mahagenco, the public sector entity owned by Govt. of Maharashtra, is the second-largest power generation utility in the country with an installed capacity of 10500 MW, comprising of a mix of Thermal, Hydro & Gas based Power Stations spread across the State.
Post Code: CH02
Job Title: Sr Chemist
No.of posts: 19
Pay Gr. – I Rs. 68780-2730-82430-2900-154930
Eligibility: M.Sc. in Chemistry (Organic / Inorganic ) from a reputed University.
OR B.Sc with chemistry as one of the subject.
Experience: Total 07 years of post-qualification experience working in a Thermal Power
A station having a capacity of 210MW and above, out of which 04 years should be in
a position of Lab Chemist & above, out of which 02 years should be in a position of
Chemist.
Age Limit: 40
_____________________________________________________________________
Post Code: CH03
Job Title: Lab Chemist
No.of posts: 25
Pay Scale: Rs. 49210-2165-60035-2280-119315
Eligibility: M.Sc.(Organic/Inorganic)Chemistry/B.Sc. From a reputed University / Institute with Chemistry as one of the subject.
Experience: No experience required
Age Limit: 38
How to Apply
1. Candidates are required to have a valid personal email ID / Mobile no. It should be kept active during this recruitment process. Under no circumstances, he/she should share/ mention email ID/ Mobile no. of any other person. In case, candidate does not have a valid personal email ID, he/she should create his/ her new email ID before applying. If message or email regarding Recruitment process is NOT received by candidates due to any reason, MAHAGENCO is NOT responsible in such cases.
2. Candidates applying for postcode CH01, FF01, FA01, FA02, FA03 & HR01should apply Online as per the link is given below and should send a copy of the Online application form along with necessary documents to- The Asst. General Manager(HR-RC), Maharashtra State Power Generation Company Ltd, Estrella batteries expansion Compound, Ground Floor, Labour Camp, daharavi Road, Matunga, Mumbai- 400019. so as to reach on or before 18.12.2019. Post-Code & Post applied for must be clearly written on the envelope while forwarding application and attested copy of supporting documents.
3. Candidates applying for postcode CH02, CH03are required to only apply Online by clicking on the Link given at the end of this Advertisement. Except online application, no other means / mode of application will be accepted.
4. The name of the candidate, his / her father's / husband's name, caste, etc. should be spelt correctly in the application form as it appears in the certificates, mark sheets. Any change/ alteration found may disqualify the candidature.
5. Candidates applying under reserved category have to submit Caste Certificate, Caste validity certificate, valid current year Non-creamy Layer certificate at the time of document submission along with Online application form, etc., as applicable.
Important Conditions about Selection Process
1. Prescribed qualification/experience are minimum criteria and mere possession of the same, does not entitle the candidate to be called for Online Examination / Personal interview. The candidates will be short listed for personal interview by applying suitable criteria.
2. The number of vacancies and reservation for backward classes indicated for different categories is provisional and likely to change. Such change will not be notified in Newspaper nor will be intimated to the candidates.
3. All the candidates registered successfully through online process will be called for online test irrespective of eligibility criteria.
4. Candidates applying for the posts advertised should ensure that they fulfill all eligibility criteria. Their admission at all stages of the recruitment process will be purely provisional subject to satisfying the prescribed eligibility criteria mentioned in this advertisement. Company will take up verification of eligibility conditions with reference to original documents only after the candidate qualifies for Personal Interview.
5. Those reserved category candidates who compete with the Open category candidates will be treated as Open category candidate for the purpose of entire process of recruitment.
6. The Online Examination will be tentatively conducted in the month of December 2019/ January 2020.
7. For Post Code CH02, CH03, IT01, IT02, FA04, FA05, HR02, HR03 & HR04 the candidates will have to appear for Online test followed by Personal Interview.
8. For Post Code CH04 Final selection will be based on Online test score only. Test will consists of 120 questions i.e. 120 questions on aptitude.
9. For Post Code FF02 the candidates will have to appear for Online test followed by Vehicle driving skill test-Fire Ground Test. The Online test will consists of 120 questions i.e. 120 questions on aptitude.
10. Online test may be conducted as per the Exam centre list depending upon the number of candidates at each location. However, in case candidates appearing for the online test at a particular place are not adequate, such candidates may be asked to appear for the test at another centre. The management reserves right to increase or decrease the location for test.
11. If the number of applicants is large, then suitable criteria will be fixed to short list the applicants for online test.
12. If the number of candidates at any of the centers is more than the capacity of the Centre for Online Test / Examination, the candidates may be shifted to any other Center/s as per the decision of the Company.
13. The Company also reserves right to allot the candidates to any center other than the one he / she has opted for, for any other reason.
14. The candidate will have to appear for Online Test at Examination Centre at his / her own cost & risk and MAHAGENCO will not be held responsible for any injury or losses, etc. of any nature.
15. The list of candidates called for Online test / Personal interview and selected for the posts advertised will be published on the Company's website i.e. www.mahagenco.in from time to time.
16. The documents & records pertaining to the above selection process will kept only upto 3 months after completion of the selection process.
17. Taking into consideration the performance in the Online test and Personal Interview (as applicable) the select list will be prepared.
18. Canvassing in any form will disqualify the candidate.
Important Dates: 
Commencement of on-line registration of application – 28/11/2019
Closure of registration of application – 18/12/2019
Closure for editing application details – 18/12/2019
Last date for printing your application – 02/01/2020
Online Fee Payment – 28/11/2019 to 18/12/2019
View Main Notification

Editor's Note: Lab Chemist Job, Mahagenco chemist job opening Subscribe to Rasayanika for latest chemistry and Pharma job openings. Follow us on Facebook for the latest updates on chemistry and Pharma.
Upload your CV to Rasayanika Talent Pool